Grilled Chicken Hearts Kebab
by Editorial Staff
You can easily cook amazingly delicious chicken heart kebabs even at home in a frying pan. Such an appetizer is capable of turning the head even for true gourmets. The hearts turn out to be tender, soft and almost dietary because there is practically no fat in them. And the right marinade and light toast make them a real treat.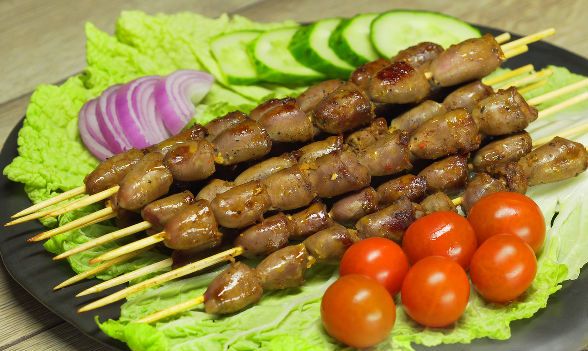 Cook: 2 hours 30 mins
Servings: 4
Ingredients
Chicken hearts – 700 g
Ground pepper – 1 teaspoon
Curry – 1/2 teaspoon
Hot chilli pepper – 1/2 teaspoon
Ginger (chopped) – 2 tbsp
Garlic – 5 cloves
Soy sauce – 80 ml
Lemon (juice) – 1 pc.
or apple cider vinegar – 2 teaspoon
Honey – 2 teaspoon
Sweet paprika – 1 teaspoon
Directions
Clean chicken hearts of fat and blood that may be inside. Cut off the remains of blood vessels.
Rinse thoroughly in cold water.
Prepare the marinade: Thoroughly mix the soy sauce, hot chilli, sweet paprika, ground pepper, honey, curry, lemon juice, finely chopped garlic and ginger.

Pour the prepared hearts with the marinade and leave to marinate for 2 hours.
Soak wooden skewers in water for 10 minutes.
Gently piercing the hearts in the centre with a skewer, collect the kebabs.

Grease the grill pan with oil (you can replace it with a regular pan) and fry the kebabs over low heat for 20-25 minutes, turn the skewers every 5 minutes.
Grilled chicken hearts are ready.
Bon Appetit!
Also Like
Comments for "Grilled Chicken Hearts Kebab"