Beef and Vegetable Kebabs
by Editorial Staff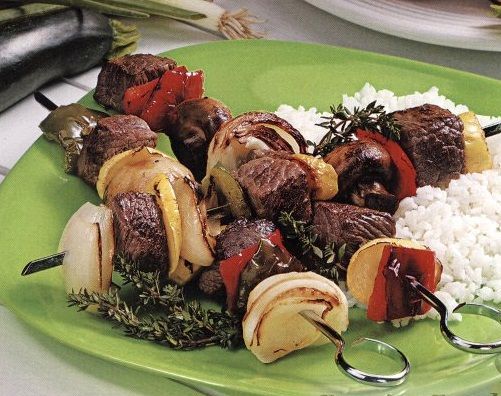 For such kebabs, the most popular vegetables and beef are taken.
Servings: 6
Ingredients
Vegetable oil – 1/2 cup
Soy sauce – 1/4 cup
Liquid honey – 3 tbsp
White wine vinegar – 2 tbsp
Ground ginger – 1/2 teaspoon
Garlic powder – 1/2 teaspoon
Beef tenderloin (cut into 2.5 cm pieces) – 600 g
Fresh champignons – 200 g
Onions (cut into slices) – 2 pcs.
Bulgarian red pepper (cut into 2.5 cm cubes) – 1 pc.
Bulgarian green pepper (cut into 2.5 cm cubes) – 1 pc.
Medium zucchini (sliced) – 1 pc.
Boiled rice for garnish (optional)
Directions
Pour soy sauce, oil, honey, vinegar, ginger and garlic powder into a large plastic bag. Put the chopped meat in this marinade, close the bag and shake well. Put the meat bag in the refrigerator overnight (at least 8 hours).
Turn on the grill to preheat to medium heat. Remove the meat from the marinade. On 12 metal skewers, string meat, mushrooms, onions, bell peppers and zucchini in turn.
Place the beef kebabs with vegetables on the grill and cook, turning occasionally for 12-14 minutes.
Also Like
Comments for "Beef and Vegetable Kebabs"