Chicken Chops in The Oven
by Editorial Staff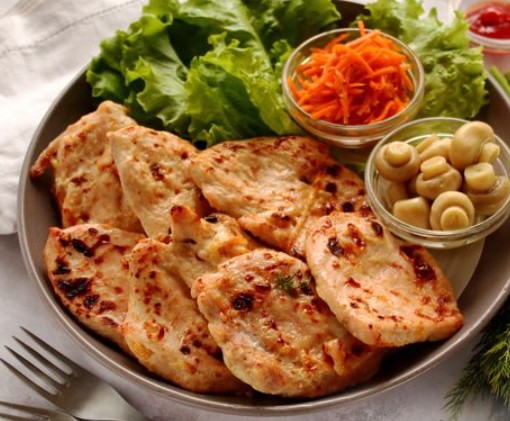 According to this recipe, we do not bread the chicken fillet chops, do not fry, but bake them in the oven! To keep the baked chicken chops juicy, marinate the meat beforehand.
Serving: 7
Ingredients
Chicken fillet – 4 pcs.
Mayonnaise – 50 g
Honey – 40 g
Vegetable oil – 30 g
Garlic – 4 cloves
Ground black pepper – to taste
Ground red pepper – to taste
Ground paprika – to taste
Mustard – to taste
Salt to taste
Directions
Prepare food for making chicken chops. If you have frozen fillets, defrost them.

For the chicken marinade, mix mayonnaise, honey, chopped garlic, mustard, red and black pepper, paprika, salt, vegetable oil.
Cut the clean fillet into layers, slightly beat off.
Densely coat each chicken chop with mayonnaise marinade. Cover and keep cold for 1-2 hours.
Transfer the marinated chicken breasts to oiled parchment. We bake chicken fillet chops in a preheated oven at 180 degrees for 10 minutes in the lower heating mode and another 10 minutes under the grill.

The baked chicken chops are ready! If desired, they can be served with sauces, herbs, pickles. Enjoy your meal!
Also Like
Comments for "Chicken Chops in The Oven"