Chicken Chops
by Editorial Staff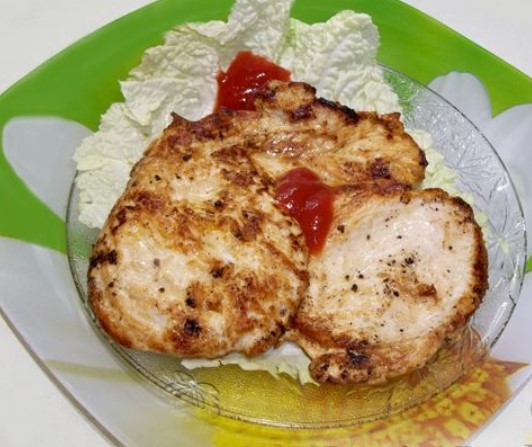 Of all types of meat, chicken is considered the most dietary, especially its fillet. It is famous for its minimal cholesterol content and highly digestible proteins.
Cook: 50 mins
Serving: 6
Ingredients
Chicken fillet – 2 pcs.
Milk – 0.5 cups
Salt to taste
Freshly ground black pepper – to taste
Freshly ground pepper mixture – to taste
Vegetable oil – for frying
Directions
Wash the chicken fillet and pat dry with a paper towel to absorb all the moisture
Cut the fillets lengthwise into several flat pieces.
Use a meat hammer to beat the fillets on both sides.
Place the beaten fillet in a deep bowl.
Pour a glass of milk over the fillet and leave to soak for 30 minutes, or longer. This is necessary so that the meat becomes soft and juicy.

Place the fillets in a heated frying pan with vegetable oil. Season with salt and pepper.
Cook the chicken chops for about 3 minutes on each side. The meat is very thin and tender, if overexposed, it can become dry.

Then turn off the heat and place the chicken chops on a plate. Do not leave it lying in a hot skillet. As the heat continues to flow from the pan, the meat may fry and dry out.
Enjoy your meal!
Also Like
Comments for "Chicken Chops"