Chicken Chops with Tomato Sauce
by Editorial Staff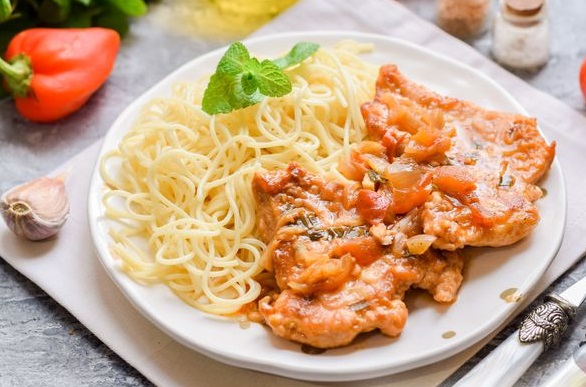 You can prepare a complete lunch or dinner – chicken chops with tomato sauce – delicious, nutritious and traditional. We prepare the sauce based on wine and tomatoes, onions, garlic, and then add chops to it. Hard cheese and herbs in the sauce will do their job.
Cook: 1 hour 15 minutes
Servings: 6
Ingredients
Chicken fillet – 300 g
Spaghetti – 300 g
Dry white wine – 180 ml
Tomatoes – 200 g (1 pc.)
Onions – 150 g (1 pc.)
Garlic – 3 cloves
Sugar – 1 teaspoon
Flour – 80 g
Hard cheese – 100 g
Green onions (or other fresh herbs) – to taste
Salt to taste
Ground black pepper – to taste
Vegetable oil (for frying) – 4 tbsp
Directions
Prepare all products according to the list.

Wash the chicken fillet, dry it, and cut into portions.
Cover the fillet pieces with cling film and beat off with a kitchen mallet. Season the chops with salt and pepper to taste.
Roll all chicken chops well in the flour.
Heat a few tablespoons of vegetable oil in a frying pan.
Place chicken chops, fry on low heat on each side for 2-3 minutes, until tender and until golden brown.
Put the chops on a plate and set aside for a while.
Meanwhile, peel the onions and garlic.
Chop the onion into small strips and cut the garlic into cubes.
Wash and dry the tomatoes, cut into small cubes.
Heat vegetable oil in a frying pan put onion and garlic. Fry the onion and garlic for 3 minutes.
Then add the tomatoes and cook for a few more minutes.
Pour wine into the pan, add sugar, salt, and pepper. Simmer the sauce for 15 minutes over low heat.
Grate the cheese on a medium grater. Rinse the green onions and chop finely.
Put the chops in a frying pan with the sauce, add the cheese and onions, and cook, covered over low heat, for 30 minutes.
Boil the spaghetti according to the instructions on the package.

Serve the cooked chops and spaghetti together.
Enjoy your meal!
Also Like
Comments for "Chicken Chops with Tomato Sauce"