Chicken Enchilada in the Oven
by Editorial Staff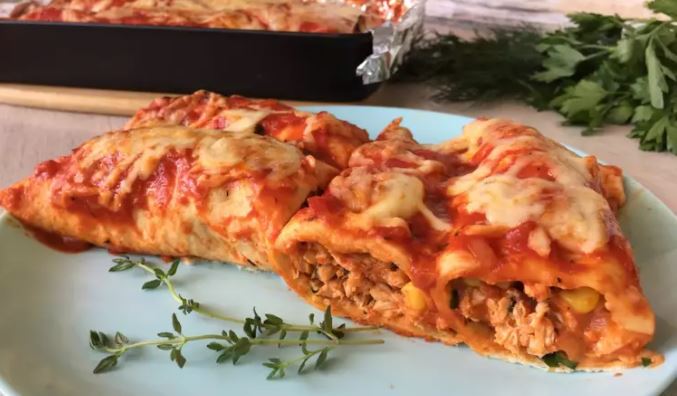 Hello everyone! Today we have Mexican cuisine! 🔥🔥🔥 This means that the dish will be spicy) But you can always not add spice, but cook a light version without spices))
Servings: 6
Ingredients
750 g Chicken breast
150 gr Corn
packing Mexican tortillas
250 gr Tomato paste
220 gr Cheese
to taste Chili sauce or chili peppers in pods
2 medium-sized heads Onions
to taste Garlic
Greens (parsley, dill, you can take cilantro, basil, thyme)
Spices to taste (I have nutmeg, Sicilian herbs, dried garlic, salt, pepper mix)
Directions
To begin with, fry the chicken breast on both sides, pre-greasing with olive oil, salt, and pepper.
Fry the onion and garlic until soft and add the tomato paste. simmer everything together for a couple of minutes.
We add all our herbs and spices to the sauce, except for herbs and sriracha sauce (if you have not a sauce, but chili peppers in pods, then add at this stage)
Pour the ready-made tomato sauce into a separate bowl, leave about 1/4 part in the pan and simmer all our prepared breast in this remaining sauce, we do this so that the meat is juicy and soaked in our sauce.
Tear the whole breast into fibers (you can cut it, but it will be much more interesting and softer along the fibers)

Now add hot chili sauce, corn, herbs, grated cheese to the chicken (we will make a cheese crust with the remaining half raw when baking)
We put the resulting filling on flat cakes and twist into rolls. (Before working with the tortillas, put them in the oven. Put the rolls in a baking dish and pour our sauce on top, to which you need to add chili sauce for spiciness (I always add spiciness at the end to regulate the taste of the dish)
It remains only to sprinkle with cheese and send to the oven for 10 minutes at 200 gr.
Also Like
Comments for "Chicken Enchilada in the Oven"