Enchilada with Chicken Breast
by Editorial Staff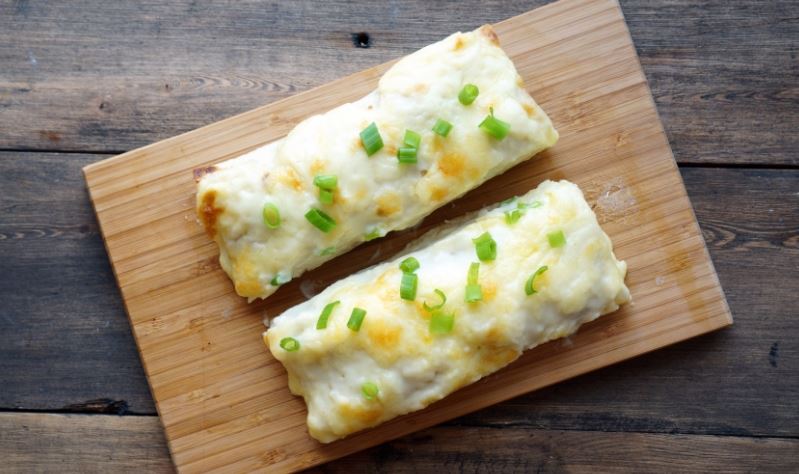 One of the varieties of this dish involves minced meat instead of filled chicken. You can also add canned corn and tomatoes to the filling to taste. But the main thing in the taste is the sharpness that the chili pepper gives. Depending on your preference, the enchilada can be made more or less spicy.
Cook: 30 minutes
Servings: 4
Ingredients
Tortillas – 3-4 Pieces
Boiled chicken breasts – 2 Pieces
Sweet pepper – 1 Piece
Cheese – 200 Grams
Milk – 2 Glasses
Butter – 3 tbsp
Wheat flour – 3 tbsp
Chili Pepper – 1 Pinch
Directions
Finely chop the boiled chicken breast. Wash and dry the pepper. Remove the seeds from it and cut them into small pieces. Grate the cheese on a coarse grater and mix the filling. Add chili on the tip of a knife and some salt. Place the fillings on the rim of the tortilla. Fold the tortilla into an envelope, wrapping the filling in it. Fold the tortillas into a baking paper form.
Melt the butter in a saucepan. Once it has melted, add flour to it and fry a little. Then pour in the milk gradually. Stir the sauce constantly so that no lumps form in it. The sauce should thicken a little. Then it needs to be poured over the tortillas.

Preheat the oven to 200 degrees. Sprinkle tortillas with sauce with grated cheese and send to the oven. Carve out the dish for 15-20 minutes. Serve hot or chilled.
Also Like
Comments for "Enchilada with Chicken Breast"