Enchiladas with Chicken and Physalis Sauce
by Editorial Staff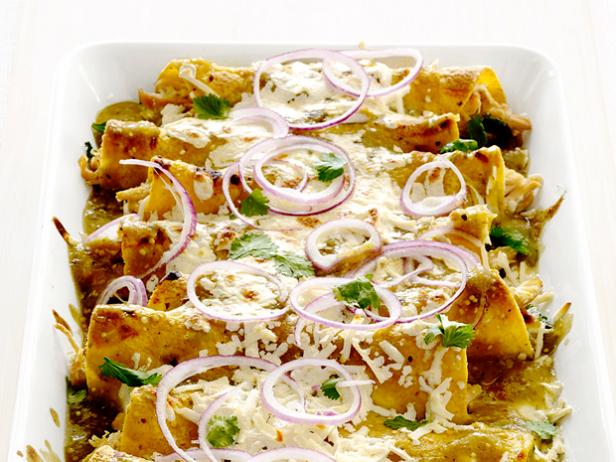 Enchiladas is one of the popular Mexican dishes in the form of stuffed tortilla tubes baked with a spicy sauce. Take ready-made grilled chicken as a filling for your enchilada. In addition to the fact that it has a bright taste, it will significantly save you cooking time. Shred the chicken into pieces and wrap in corn tortillas with melted grated cheese and fresh cilantro. Arrange the straws in a row in a baking dish, drizzle with a spicy physalis-based sauce, sprinkle with cheese, and grill under the heating element of a grill oven. Enchilada turns out to be very appetizing and tasty with crispy tubes and stringy melted cheese.
Cook: 30 minutes
Servings: 6
Ingredients
3 tablespoon. BBQ chicken, cut into pieces
1 small red onion, halved
700 gr. vegetable physalis, peeled and washed
1 – 2 serrano pepper pods, peeled of stalks and seeds
0.5 tablespoon. slightly salted chicken broth
Pinch of sugar
8 corn tortillas
2.5 tablespoon. grated mozzarella and/or Monterey Jack cheese
1/3 Art. fresh cilantro
2 tbsp unrefined olive oil + extra for lubrication
3/4 Art. crumbled queso fresco or feta cheese
Directions
Preheat oven with grill function. Cut half the onion into thin half-rings and set aside. Place the other half of the onion, physalis, and serrano pepper on a foil-lined baking sheet and roast in the oven, turning the other side if necessary, until the vegetables are soft and slightly crispy, 7 to 10 minutes.
Transfer the vegetables and the liquid that has separated from them to a blender, add the broth, and chop in a puree. Add 0.5 teaspoon. salt and sugar. In the meantime, stack the tortillas, wrap them in a damp paper towel, and microwave for 1 minute; keep warm tortillas covered. In a bowl, combine chicken with 2 tablespoon. grated cheese.
Place a serving of the chicken mixture in the middle of each tortilla. Add a few cilantro leaves and roll. Place the enchiladas in a lightly oiled 22 x 32 cm baking dish and brush with 2 tbsp olive oil. Grill until golden brown, 3 minutes.
Pour the physalis sauce over the enchiladas and sprinkle with the remaining 0.5 tablespoon. grated cheese. Place in the oven again and fry until the cheese is boiling and browning, 3 to 5 minutes. Sprinkle with onion rings, queso fresco, and leftover cilantro.
Also Like
Comments for "Enchiladas with Chicken and Physalis Sauce"