Enchilada with Chicken and Salsa Sauce
by Editorial Staff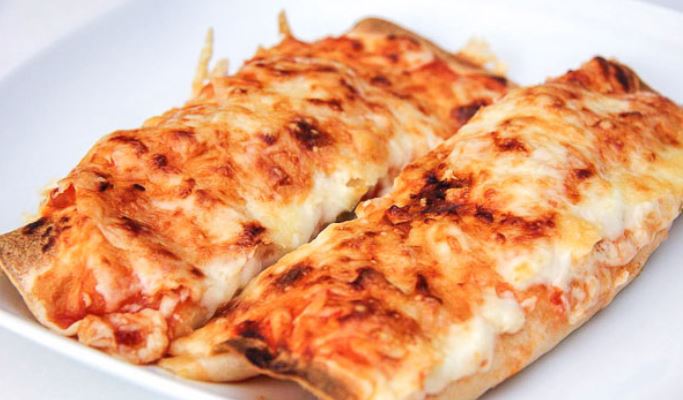 Mexican cuisine has always attracted the attention of all food lovers for its simplicity of preparation and original taste of dishes. A striking example is the chicken enchilada. It is prepared simply, quickly, and always turns out to be unusually tasty. The pungency can be adjusted to your liking.
Ingredients
salsa sauce (ready-made) – 45g
For the filling:
sunflower oil – 1 tablespoon.
chicken breast (whole, fillet) – 1.5 pcs.
salsa sauce – 270g
hard cheese – 190g
tortilla (diameter 20 cm) – 5 pcs.
Directions
Put a thin layer of salsa sauce on the bottom of a heat-resistant dish measuring 30×30 cm, and set aside the rest of the sauce, because we will need it later.
We clean the chicken breasts from the remaining fat, cartilage and cut them into cubes. Fry the chicken until golden brown on a spoonful of sunflower oil, without spices. Then simmer the meat under the lid for 10-20 minutes until it becomes soft.
Grind the finished meat with a food processor or blender. Add salsa sauce and hard cheese grated on a coarse grater to the meat. Mix the resulting minced meat.
We put 3 tablespoons on each tortilla. fillings. We roll up the dough with a tube and then put it next to each other with the wrapped part down in a prepared saucepan.
Grease each rolled tortilla with the rest of the salsa sauce on top and sprinkle evenly with grated cheese.
We bake in the oven, preheated to 200C for 20-30 minutes until the cheese is melted and browned. Serve hot enchiladas with chicken and salsa sauce.
Bon Appetit!
Also Like
Comments for "Enchilada with Chicken and Salsa Sauce"