Enchiladas with Quick Chicken
by Editorial Staff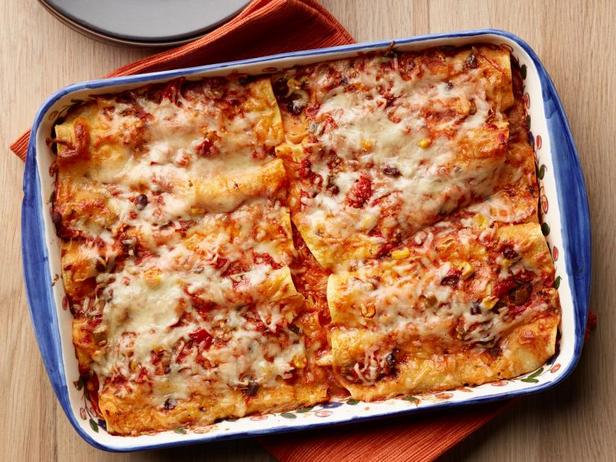 Grilled chicken leftovers are great for making a quick Mexican enchilada, meat-filled tubules baked under a layer of tomato sauce and cheese. Simply chop half of the grilled chicken with two forks, mix it with canned beans and grated cheese, add spices, and wrap the filling in corn tortillas. Then the tubes are laid out in tight rows in a mold, filled with red salsa, sprinkled with grated cheese, and everything is baked so that the filling is warmed up and the cheese melted. Serve sprinkled with sour cream and topped with pickled jalapeno rings.
Cook: 50 minutes
Servings: 6
Ingredients
Grilled half chicken, chop the meat (about 2 and 1/4 cup), discard the bones and skin
1 can (425 g) canned refried beans (about 1 tablespoon)
0.5 teaspoon dried oregano
340 g (3 cups) grated Monterey Jack cheese
1 can (450 g) medium-hot tomato salsa
12 corn tortillas with a diameter of 15 cm.
Sour cream and pickled jalapenos, to serve
Directions
Preheat oven to 190 ° C.
In a bowl, combine the beans, oregano, and 1 tablespoon. cheese. Add chicken, pepper, and stir to distribute everything evenly. In a bowl, combine salsa with 1 tablespoon. water, then pour 1 tablespoon. sauce on the bottom of a 22 x 32 cm baking dish and distribute.
Stack the tortillas, wrap them in damp paper towels, and microwave until pliable, about 15 seconds. Spread the tortillas on a workbench, spread the chicken filling evenly (about 1/4 cup each per tortilla).
Roll the tortillas into the rolls and place them in a baking dish with the seam side down so that they fill the form evenly. Press gently on the straws with your hand to absorb the sauce. Pour the remaining sauce over the rolls, then sprinkle with the remaining 2 tablespoon. cheese.
Bake the enchiladas until the cheese is melted and heated in the center, about 30 minutes.
Serve hot with sour cream and pickled jalapenos.
Also Like
Comments for "Enchiladas with Quick Chicken"