Enchiladas with Chicken and Cheese
by Editorial Staff
Enchiladas with chicken and cheese is a Mexican lasagna. The recipe includes corn tortillas and chili sauce for enchiladas. All this can be replaced, the sauce can be prepared by yourself, you will need a lot of it.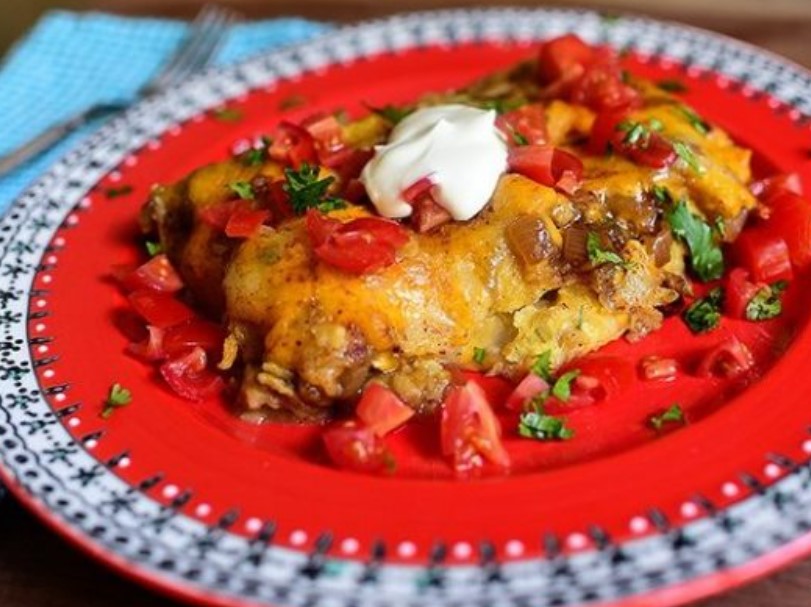 Cook: 1 hour
Servings: 6-8
Ingredients
Chicken Breasts – 2 Pieces
Corn cakes – 16 Pieces
Vegetable oil – 1/4 Cup
Enchiladas Green Sauce – 3 Pieces (Tins)
Grated Chadder Cheese – 2 Glasses
Onion – 1 Piece
Cumin – To taste
Red Pepper – To taste
Cilantro – To taste
Chili Powder – To taste
Directions
Sprinkle the breasts with spices.

Fry in a pan.
Cut the onion into cubes.
Remove the chicken from the pan and fry the onion in it.
Remove the onion from the pan.
Pour the sauce into the pan.
Warm up the sauce a little.
Heat the cakes on the stove.
Tear the chicken into pieces.
Grate the cheese.
Dip the tortilla in the sauce and place the chicken, cheese and onion in the center.

Pour the sauce into a baking dish and place the rolled cakes in it.
Pour the sauce over the tubules and sprinkle with the cheese.
Bake for 30 minutes at 180 degrees.
Sprinkle with chicken and cumin cheese enchiladas, pepper, cilantro.
Bon Appetit!
Also Like
Comments for "Enchiladas with Chicken and Cheese"