Enchilada with Ham and Cheese
by Editorial Staff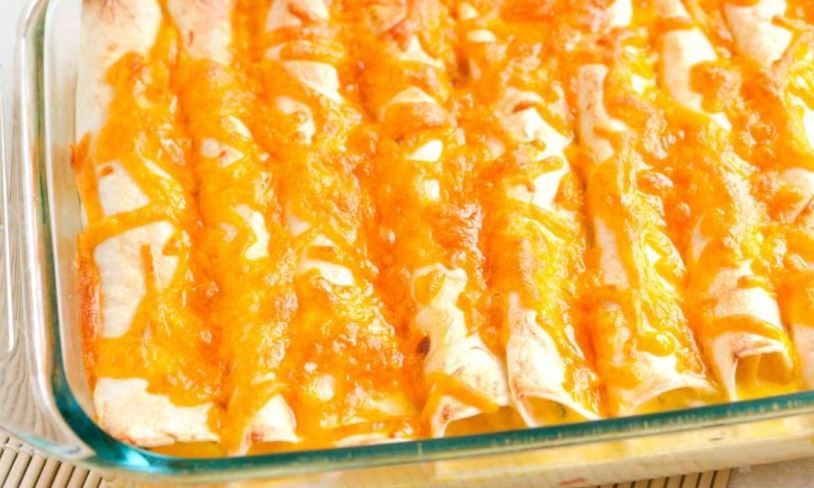 Enchilada is a tortilla stuffed with vegetables, meat, or cheese. You can use several filled tortillas to create a casserole. Instead of flat cakes, you can use thin Armenian lavash or bake pancakes in advance. You can stuff such not only with vegetables, meat or cheese, but also use sweet fillers: berries, chocolate, cottage cheese. Serve warm.
Cook: 9 hours
Servings: 6
Ingredients
Tortilla – 10 Pieces
Ham – 230 Gram
Bulgarian pepper – 1 Piece
Green Onions – 8 Pieces
Hard cheese – 230 Grams
Eggs – 6 Pieces
Cream – 2 Glasses
Salt – 1 Pinch
Flour – 1 tbsp
Directions
Peel and cut the bell pepper into strips, chop the ham and chop the green onion, grate the cheese on a coarse grater, mix all the ingredients, leaving a little cheese aside. Arrange with tortilla and center about 1/3 cup filling, wrap tight.

Grease a baking dish with vegetable oil, put the tortilla in it, and wrap the filling in the remaining 9 pieces. Lay everything tightly into shape. Combine eggs, cream, flour, and salt in another bowl. Pour the prepared mixture over all the cakes in the form, cover with foil and send to the refrigerator overnight.
Take out the form and send it to the oven preheated to 180 degrees for 30 minutes, covering the form with foil, then take it out and sprinkle with the remaining cheese, send it back to the oven for 10-15 minutes.
Bon Appetit!
Also Like
Comments for "Enchilada with Ham and Cheese"