Enchilada with Beef
by Editorial Staff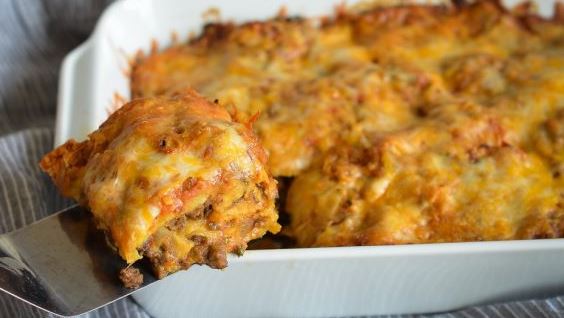 In appearance, the dish looks like the lasagna we know, and it is also folded in layers. But it tastes like a completely different dish. Spicy, bright, and very satisfying. With lots of meat and sauce. I present to you the instruction, which describes how to cook beef enchilada. A good option for a family dinner.
Cook: 1 hour 5 minutes
Ingredients
Ground beef – 700 Grams
Tomato – 580 Grams
Vegetable oil – 90 Milliliters (30 ml – in minced meat, 60 ml – in sauce)
Onions – 2 Pieces
Tortilla – 10 Pieces
Hard cheese – 360 Grams
Garlic – 6 Cloves
Salt – 2.75 Teaspoons (0.75 teaspoons for minced meat, 2 teaspoons for sauce)
Chili Powder – 1.5 Teaspoons
Cumin – 3.5 Teaspoons (2.5 teaspoons – in minced meat, 1 teaspoon – in sauce)
Cayenne Pepper – 1 Pinch
Cilantro, twig – 2 Pieces
Soda – 0.5 Teaspoons
Directions
Mix minced meat with baking soda. She will make the minced meat juicier.
Coarsely chop the onions and tomatoes. Place the pieces on a foil-lined baking sheet. Also peel and layout the garlic. Pour oil over everything.
Bake vegetables for 15 minutes in the oven at 180 degrees.

Prepare the sauce. Transfer vegetables to a mixer. Add cayenne pepper, cumin, salt.
Grind the ingredients in a mixer. Then add the cilantro and whisk into the gruel again.
Fry the minced meat in hot oil for 2 minutes, stirring occasionally.
Then add salt and chili. Cook for another 4.5 minutes while stirring.
Now it's time to assemble the dish. Prepare a rectangular deep baking dish. Layout some of the cakes in the first layer. Break them into large pieces beforehand.
Then distribute half of the minced meat and 1/3 of the sauce.

Then grate 1/3 of the cheese.
Next, the remaining tortillas.
Then add all the minced meat and sauce.
And rub a thick layer of cheese on top.
Bake the enchilada for 35 minutes in the oven at 180 degrees.
Bon Appetit!
Also Like
Comments for "Enchilada with Beef"