Enchiladas with Chili
by Editorial Staff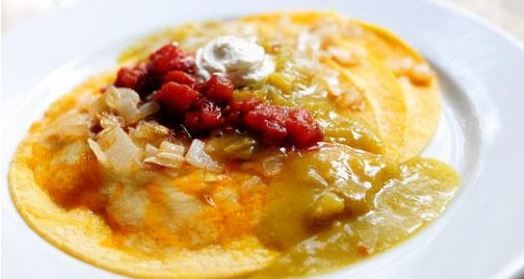 The meat filling is most commonly used for enchiladas, but it can also be eggs, seafood, or vegetables. First, the enchiladas are fried in a pan and then baked in the oven with cheese sauce. Traditionally, enchiladas are served with salsa, sour cream, cheese, cilantro, lettuce, olives, or chopped onions.
Cook: 15 minutes
Servings: 4
Ingredients
Onion – 1 Piece
Butter – 2 tbsp
Can of Enchilada Green Sauce – 1 Piece (450 g)
Jars of chopped green chili – 2 Pieces (120 g each)
Corn tortillas – 12 Pieces
Sour cream, salsa, pico de gallo – To taste (optional) to serve)
Guacamole, cilantro – To taste (optional) for serving)
Directions
Cut the onion into cubes. In a small skillet, fry the onions in butter over medium-low heat until the onions are golden brown.
In a small saucepan, combine the enchilada sauce with the chili and heat.
Place the tortillas on a work surface and sprinkle with grated cheese in the center. Place in oven or microwave until cheese is melted
Place 3 cheesecakes on each serving plate so that they cover each other. Place a large number of fried onions on top.
Drizzle with warm green sauce.
Add salsa, sour cream, pico de gallo, and cilantro if desired. Serve immediately. The leftover green sauce can be saved for use in nachos, quesadillas, chicken, etc.
Also Like
Comments for "Enchiladas with Chili"