Vegetarian Enchiladas
by Editorial Staff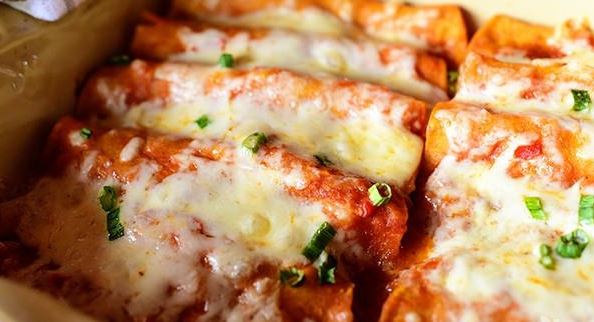 Enchiladas is a traditional Mexican dish based on stuffed corn tortillas. A corn tortilla is called a tortilla, and without it, Mexican cuisine is nowhere. This is something like our bread in importance and even more. Mexicans adore tortillas and cannot imagine life without them. The filling for enchiladas can be either meat or vegetable.
Cook: 45 minutes
Servings: 6
Ingredients
Zucchini – 1 Piece
Eggplant – 2 Pieces
Onion – 1 Piece
Mushrooms – 8 Pieces
Tortilla – 12 Pieces
Green onion – 1 Bunch
Salt, pepper – To taste
Vegetable oil – 2-3 tbsp
Grated cheese – 100 grams
Directions
Grill the chopped mushrooms, zucchini, and eggplant drizzle with oil, and season with salt and pepper to taste.
Grill the onions as well. Once the vegetables have cooled slightly, cut them into cubes.

Fry the cakes in vegetable oil until they are softer.
Dip the pita bread completely in the sauce.
Sprinkle tortilla with vegetables, grated cheese, and chopped green onions.
Wrap the tortillas in rolls and place them in a baking dish.
Sprinkle the remaining cheese on top and bake in the oven at 190 degrees for 20 minutes.
Also Like
Comments for "Vegetarian Enchiladas"