Enchilada with Ham, Cheese and Bell Pepper
by Editorial Staff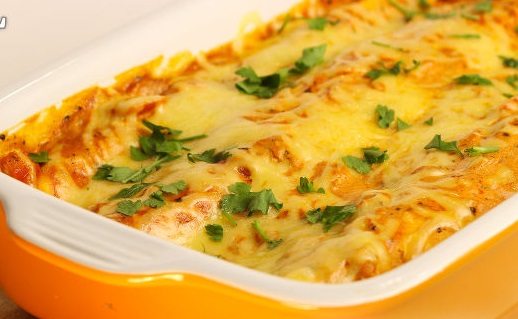 Enchilada is a delicious and easy to prepare a dish made from thin Mexican stuffed tortillas. Tortilla cakes with ham, cheese, and sweet pepper are baked with sour cream and vegetable sauce. A dish from which it is impossible to tear yourself away! Delicious, satisfying, and not troublesome!
Ingredients
Tortilla cakes – 8 pcs.
Sausage (ham) – 200-300 g
Hard cheese – 150-200 g
Bulgarian pepper – 2 pcs.
Bulb onions – 1 pc.
Garlic – 4-5 cloves
Tomato paste – 2-3 tbsp
Sour cream – 250 g
Vegetable oil – for frying
Provencal herbs to taste
Ground paprika – to taste
Salt to taste
Ground red pepper – to taste
Water – 0.5 cups
Directions
We'll need tortilla cakes.

How to make an enchilada with ham, cheese and vegetables:
Cut the bell pepper into cubes.
Chop the onion.
Cut the sausage in any order.
Grate the cheese.
Chop the garlic.
First of all, fry the onion and half the garlic in vegetable oil.
Add half of the bell pepper.
Sprinkle with your favorite seasonings, salt, pepper, and fry for a couple of minutes.
Add tomato paste to the resulting mass and fill it with water (0.5 cups), leave the sauce to simmer for a few more minutes. At the very end, add sour cream and turn off the stove, leave the sauce to simmer.

On each tortilla we spread the filling of sausage, cheese and bell pepper, add chopped garlic and roll the filled tortilla into a roll.
This way I wrapped all 8 cakes. Put the stuffed cakes in any heat-resistant dish, put the prepared sauce on top, carefully distribute over the entire surface. Sprinkle with grated cheese on top and place the enchilada in the oven preheated to 200 degrees for 15-20 minutes.
After the time has passed, we take out the enchilada with ham and cheese from the oven and enjoy the great taste of the dish.
Enjoy your meal!
Also Like
Comments for "Enchilada with Ham, Cheese and Bell Pepper"