Bell Pepper Rolls with Cheese Filling
by Editorial Staff
Baked bell pepper rolls stuffed with hard and cream cheese – a simple, but very tasty and effective appetizer. Colored sweet pepper rolls look very bright and attractive on a plate. Try it!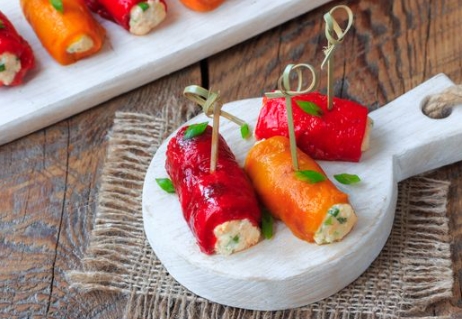 Cook: 1 hour
Servings: 2
Ingredients
Bulgarian red and yellow pepper – 2 pcs.
Hard cheese – 80 g
Cream cheese – 80 g
Garlic – 1 clove
Green onions – 2 pcs.
Salt to taste
Ground black pepper – to taste
Directions
Prepare the required ingredients according to the list.

Pierce the bell peppers with a fork 2-3 times on each side and place on a baking sheet. I pre-line the baking sheet with baking paper.

Place the baking sheet in an oven preheated to 200 degrees and bake the bell peppers for 25-30 minutes until black markings appear. During this time, the pepper can be turned over 1-2 times so that it bakes evenly.
Then place the baked peppers in a bag, seal it tightly and leave for 10-15 minutes at room temperature. This will cool the pepper a little and it will be much easier to peel it.
In the meantime, prepare the cheese filling. Place finely diced hard cheese and peeled garlic in a blender bowl.
Grind cheese with garlic for 1-1.5 minutes until finely crumbled.
Add finely chopped green onions and cream cheese to the resulting mass.
Mix everything thoroughly. Try the cheese filling and add salt and ground black pepper to taste.
Peel the baked peppers from the skin and seeds, drain the separated juice.
Cut the peppers lengthwise into strips about 3 cm wide.
Place 1 heaped teaspoon of cheese filling on the base of the pepper strip, and then roll the strip into a roll.
Repeat the process of forming rolls from the remaining bell pepper strips, adding the filling and rolling in the same way. Secure each roll with a skewer and serve the sweet pepper and cheese appetizer to the table.
Bon Appetit!
Also Like
Comments for "Bell Pepper Rolls with Cheese Filling"