Egg Roll with Cottage Cheese and Sweet Pepper Filling
by Editorial Staff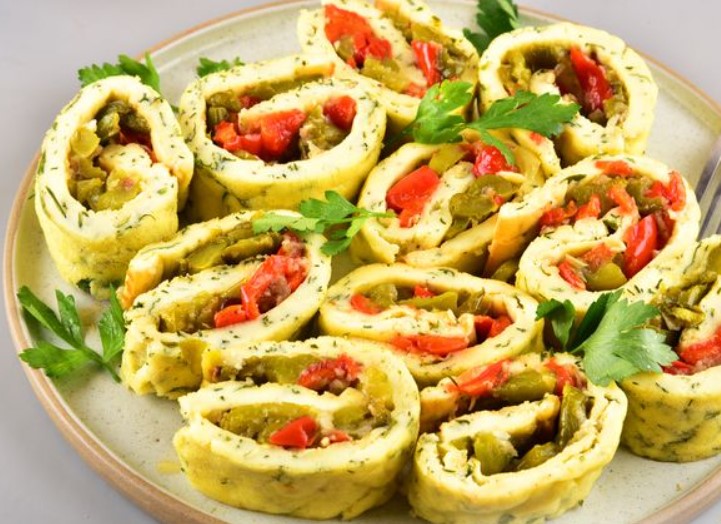 A very tasty and easy-to-prepare appetizer – an egg roll with baked bell pepper. Such a roll looks bright and appetizing. Delicate egg crust with the addition of cottage cheese and herbs and baked bell pepper filling – a wonderful combination!
Cook: 1 hour
Servings: 4
Ingredients
Bulgarian pepper – 3 pcs. (500 g)
Eggs – 6 pcs.
Cottage cheese – 50 g
Bulb onions – 1 pc. (100 g)
Garlic – 1 clove
Fresh greens – 30 g
Flour – 2 tbsp
Vegetable oil – 2-3 tbsp
Salt to taste
Ground black pepper – to taste
Directions
Prepare ingredients.
Turn on the oven to heat up to 220 degrees.

Wash the pepper, cut into quarters and remove the seeds. Put on a dry baking sheet and bake at 220 degrees for 15-20 minutes.
Place the baked peppers in a bag and leave for 10 minutes. Then peel the peppers.
Peel and chop onion and garlic in a blender or finely chop.
Grease a baking sheet with vegetable oil. Put the peppers, sprinkle with oil, salt and pepper, top with chopped onion and garlic. Bake at 200 degrees for 15 minutes Break eggs into a bowl, add cottage cheese, salt and pepper. Kill with a blende Add flour and beat again. Grind the herbs, add to the egg-curd mixture. Mix. Grease the rectangular form with vegetable oil, pour the resulting mass into it (the size of the form is approximately 35×25 cm). Bake at 200 degrees for 15-20 minutes. Cool the finished omelet a little.

Put the finished baked cake on the foil.
Cut the baked peppers into pieces.
Place the pepper on the egg crust and flatten.
Roll up roll, wrap in foil. Let the roll sit for about 5-10 minutes for it to take shape.

Free the roll from the foil.
Cut the roll into portions.Serve hot or cold egg roll with bell pepper. Enjoy your meal!
Also Like
Comments for "Egg Roll with Cottage Cheese and Sweet Pepper Filling"