Baked Pumpkin Stuffed with Chicken in Enchilada Sauce
by Editorial Staff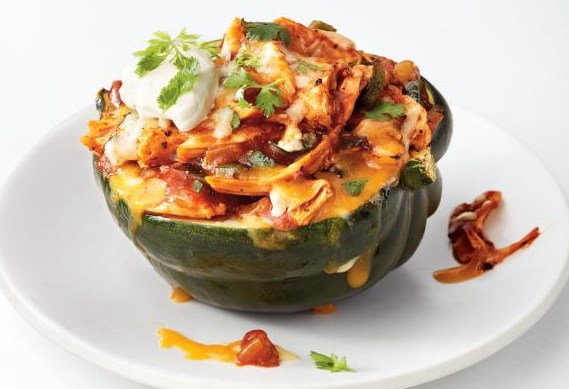 Small acorn gourds Aron, due to their neat shape and small size, can serve as a tasty edible bowl for a dish, at the same time serving as a vegetable side dish. Cut the pumpkins in half and boil them first. Then fill with chunks of grilled chicken fried with onions and poblano peppers in Mexican tomato-chili-based enchilada sauce. Since grilled chicken already has a spicy flavor, the filling is very rich and flavorful. Sprinkle the stuffed pumpkins with grated cheese and bake in the oven. The dish is an appetizing pumpkin bowl that will look spectacular on the table. And its sweetness is harmoniously combined with the spicy filling, softening the pungent taste.
Cook: 40 mins
Servings: 4
Ingredients
2 small yellow acorn squash, halved and seeded
1 tbsp olive oil
Half a white onion, diced
1 small poblano pepper, seeded and diced
1 garlic clove, grated
0.5 teaspoon ground cumin
450 gr. red enchilada sauce
2.5 tablespoon. shredded grilled chicken without skin
0.5 tablespoon. fresh cilantro and additionally for topping
250 gr. a mixture of grated Mexican cheeses (about 2 cups) Sour cream for topping
Directions
Preheat oven to 220 ° C.
Place the pumpkin halves in a large microwave-safe bowl and pour in 1/4 cup. water. Cover loosely with cling film. Cook the pumpkin in the microwave for about 15 minutes, until soft when pierced with a fork.
Meanwhile, in a medium-sized saucepan, heat the olive oil over moderate heat. Add onion and poblano and cook, stirring occasionally, until slightly softened, about 2 minutes.
Add garlic, cumin, 0.5 teaspoon. salt and a little pepper; broil, stirring occasionally, until vegetables are soft, about 3 minutes. Add the enchilada sauce and chicken.
Bring to a boil and cook until the sauce thickens about 5 minutes. Add cilantro, salt, and pepper.
Place the pumpkin, cut side up, in a 22×32 cm baking dish. Spread the chicken filling evenly in the pumpkin halves and sprinkle with cheese on top. Bake until the cheese is golden brown and melted, 10-12 minutes.
Serve with sour cream on top and sprinkle with cilantro.
Also Like
Comments for "Baked Pumpkin Stuffed with Chicken in Enchilada Sauce"