Eggplant Rolls with Chicken
by Editorial Staff
Eggplant rolls stuffed with chicken and rice, baked in the oven with vegetable sauce, is a hearty, tasty and original dish. These rolls will be a great lunch dish for the whole family!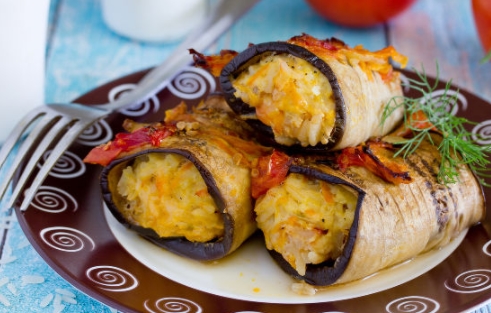 Cook: 1 hour 40 mins
Servings: 6
Ingredients
Eggplant (large) – 2 pcs.
Chicken fillet – 500 g
Raw rice – 80 g
Carrots – 1 pc.
Bulb onions – 1 pc.
Tomatoes – 2 pcs.
Sunflower oil – 80 ml
Water (for sauce) – 300 ml
Bay leaf – 1 pcs.
Salt to taste
Ground black pepper – to taste
Directions
Wash large eggplants and cut into slices 3 mm thick.

We put the eggplant slices in a bowl and pour boiling water for 10 minutes – so the slices become soft, the rolls of them will easily roll up and the bitterness will go away.

After 10 minutes, lay the eggplants on a clean kitchen or paper towel and leave for 5 minutes to remove the liquid.
Boil rice in salted water until tender, put it in a colander and rinse with cold water.
We pass the fillet of chicken breasts through a meat grinder.
Peel the onions and carrots. Cut the onion into small cubes, rub the carrots on a coarse grater. Heat the sunflower oil in a frying pan, put onions and carrots in the pan.
Fry vegetables over high heat until soft.
Add rice and half of the vegetable fry to a bowl of minced chicken. Pour in salt and black pepper.
Mix the filling for the rolls.
My tomatoes, cut into cubes and add to the pan with the remaining frying. Fry vegetables for 5 minutes, pour in boiling water, add a couple of pinches of salt and simmer the sauce for rolls for 5 minutes.
We form rolls. Put a spoonful of the filling on one edge of the eggplant.
We wrap the eggplant slice from the side of the filling to make a roll.
Thus, we form the rest of the rolls and put them in a baking dish.
Put vegetable sauce on eggplant rolls, add a little boiling water if necessary. Place pieces of the bay leaf between the rolls.
We bake eggplant rolls with chicken in an oven preheated to 180 degrees for 40-50 minutes.
Serve hot eggplant rolls with chicken. Bon Appetit!
Also Like
Comments for "Eggplant Rolls with Chicken"