Eggplant Roll with Cheese and Ham
by Editorial Staff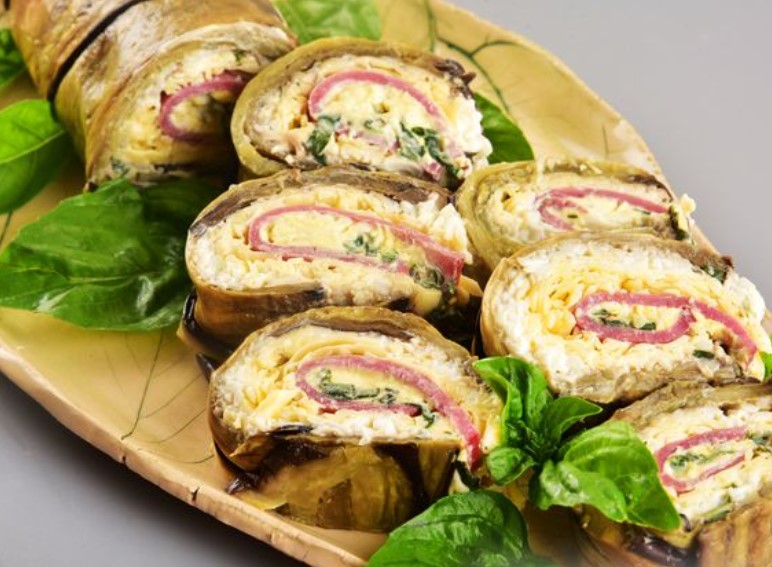 A very tasty and beautiful roll is made from eggplant, cheese, eggs and ham. Such an appetizer will certainly decorate your table, pleasantly surprise your guests and give a wonderful taste experience.
Cook: 3 hours
Servings: 6
Ingredients
Eggplant – 600 g (2 pcs.)
Hard cheese – 180 g
Ham – 150 g
Eggs – 4 pcs.
Garlic – 2-3 cloves
Sour cream – 2 tbsp
Mayonnaise – 2 tbsp
Salt to taste
Ground black pepper – to taste
Fresh greens – 1 bunch (small)
For filing (optional):
Directions
Prepare ingredients. Rinse the eggplants and herbs. You can take any greens – I have basil.

Hard-boiled eggs (10 minutes after boiling). Then pour cold water and cool.
Turn on the oven to heat up to 200 degrees. Cut the eggplants lengthwise into thin plates. Season with salt and leave for 10 minutes. Then wipe off excess moisture with a napkin.
Cover the baking sheet with parchment. Put the eggplants on a baking sheet and brush with oil. Bake the eggplants at 200 degrees for 15 minutes. Cool down.
Peel and chop the garlic. Chop the greens too.
In a suitable container, combine half the garlic, half the herbs, sour cream, mayonnaise, ground pepper and salt. Mix.
Peel the eggs, separate the whites from the yolks and grate on a medium grater.
Combine half of the sour cream-mayonnaise dressing with proteins, the other half with yolks.

Grate the cheese on a coarse grater, add the remaining garlic, mix.
Place overlapping pieces of eggplant on foil or cling film.
Place the egg whites dressing on top and smooth.
Place a layer of cheese with garlic.
Cut the ham into thin slices and place on the cheese.
Top with the dressing with the yolks.
Sprinkle with the remaining herbs.

Roll the eggplants into a tight roll along the long side, helping themselves with foil, and put them in the refrigerator for at least 2-3 hours.
Remove the foil from the finished roll, put on a serving dish and, if desired, decorate with basil leaves.
Cut the eggplant roll into portions and serve.
Bon Appetit!
Also Like
Comments for "Eggplant Roll with Cheese and Ham"