Hot Rolls with Ham and Cheese
by Editorial Staff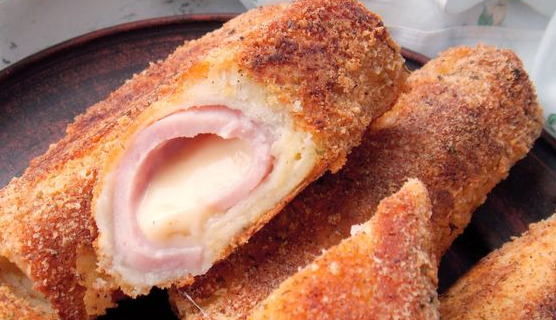 A beautiful and original breakfast or snack – roll sandwiches stuffed with ham and melted cheese, and even in a crispy cheese "coat"! Try to make these delicious hot sandwiches – it's very easy, and it won't take much time.
Cook: 15 minutes
Servings: 3
Ingredients
Toast bread – 6 slices
Ham – 150-200 g (6 slices)
Hard cheese – 100 g (6 slices)

For breading:

Hard cheese – 30 g
Bread crumbs – 5 tbsp
Dried parsley – 1/2 teaspoon
Ground sweet paprika – 1/2 teaspoon
Dried garlic – 1/2 teaspoon
Ground black pepper – to taste

For a lezon:

Egg – 1 pc.
Milk – 1.5 tbsp

For frying:

Vegetable oil – 2 tbsp
Directions
Cut off all the crusts from the bread slices and roll them out with a rolling pin so that they become a little thinner and then it is convenient to roll them up.
Place a slice of ham on each slice of bread.

Place a slice of cheese on each slice of ham.
Grease one edge of the sandwich (opposite to the one from which you will begin to fold) with milk. Roll the ham and cheese bread into a tube and squeeze it well in your hands to make it tighter. Thus, roll up all the sandwiches.
Prepare the breading. Grate the cheese on a fine grater. Add paprika, dried garlic, black pepper, dried parsley, and grated cheese to the bread crumbs. Stir.
Prepare a lion. Break the egg into a deep bowl and loosen it with a fork. Pour in the remaining milk and stir again until smooth.
Dip the ham and cheese bread roll on all sides in a lezon.
Then roll the breadcrumbs on all sides. Do the same with the rest of the tubes.

Pour vegetable oil into a frying pan and heat. Fry the straws over medium heat until crisp on all sides.
Remove the ham and cheese rolls from the pan and serve immediately.
Enjoy your meal!
Also Like
Comments for "Hot Rolls with Ham and Cheese"