Zucchini Roll with Cheese and Ham
by Editorial Staff
Zucchini snack roll with ham and cheese – an interesting recipe, great serving! Everything I love has been put together on a roll! Cook and surprise your guests!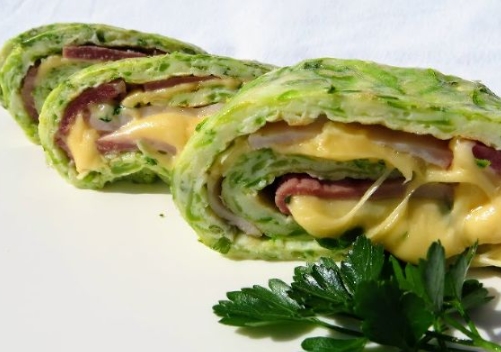 Ingredients
Zucchini – 2 pcs.
Ham (or sausage) – 200 g
Hard cheese – 200 g
Green onions – 20 g (to taste)
Parsley – 2 sprigs
Flour – 70-100 g
Eggs – 4 pcs.
Salt to taste
Directions
We prepare products. Instead of ham, your favorite sausage is perfect.

We rub the young zucchini on a coarse grater along with the peel.

Add a pinch of salt to the eggs (cheese and ham are salted, so be careful with salt) and mix well. Squeeze the zucchini from the liquid and send it to the eggs.
Chop the green onion finely and finely and send it there, to the zucchini.
Gradually add flour and mix well.
Preheat the oven to 200 degrees. On a prepared baking sheet, covered with parchment, pour the zucchini mass and level.
We bake at a temperature of 200 degrees. We baked for 25 minutes. Let it cool. When the zucchini base has cooled well, it is very good to work with it. Remove the parchment (this was probably the hardest part, so use a silicone baking mat).
Now we cut the ham into thin slices.
We cut the cheese in the same way.
Put ham, cheese on a zucchini base, sprinkle with chopped parsley.
Gently wrap the zucchini roll with ham and cheese.
Such a snack roll can be placed in the refrigerator before guests arrive. Or you can immediately send it to the oven (microwave) and heat it up for a few minutes until the cheese melts.
It turned out to be very aromatic and tasty!
Also Like
Comments for "Zucchini Roll with Cheese and Ham"