Zucchini Roll with Ham and Homemade Cheese
by Editorial Staff
How can you make an unusual and festive dish from a banal zucchini? Taking the squash dough crust as a basis and using different fillings, we get a new dish. By the way, the zucchini itself does not give itself away, and few people understand what the roll is made of.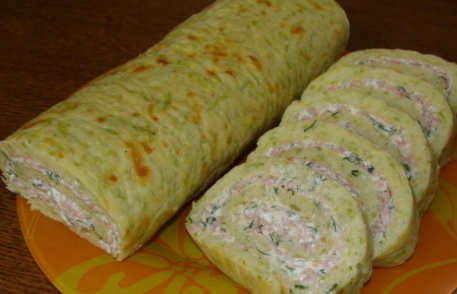 Servings: 15
Cook: 12 hours
Ingredients
Zucchini (medium) – 3 pcs. (about 850 g)
Ham – 250 g
Soft cheese ("Philadelphia") – 250 g
Wheat flour – 170 g
Chicken egg – 3 pcs.
Hard cheese – 100 g
Garlic – 1-2 cloves
Vegetable oil – for greasing the baking sheet
Greens to taste
Salt to taste
Ground black pepper – to taste
Directions
Rub the zucchini on a coarse grater. Remove seeds and skins if necessary. If there is a lot of liquid, the grated zucchini should be squeezed out a little.

Beat eggs with salt.

Add pepper, salt, grated cheese, beaten eggs, and flour to the zucchini.
Cover the baking sheet (I have 37 by 32 cm) with parchment and grease abundantly with vegetable oil. We spread the zucchini mass and distribute it in an even layer. We send to bake in the oven preheated to 180 degrees for 25 minutes.
Making the filling. Rub the ham on a coarse grater. Finely chop the herbs, chop the garlic in a press, add the soft cheese, mix everything. Salt if necessary.
We take out the cake and let it cool completely. After that, we separate it from the paper. Put the filling on top and distribute it. Roll up the roll tightly.
We wrap the finished roll in plastic wrap and send it to the refrigerator for about an hour.
We take out the zucchini roll from the refrigerator and cut it into portions.
Enjoy your meal!
Also Like
Comments for "Zucchini Roll with Ham and Homemade Cheese"