Ham Rolls with Cheese and Pickles
by Editorial Staff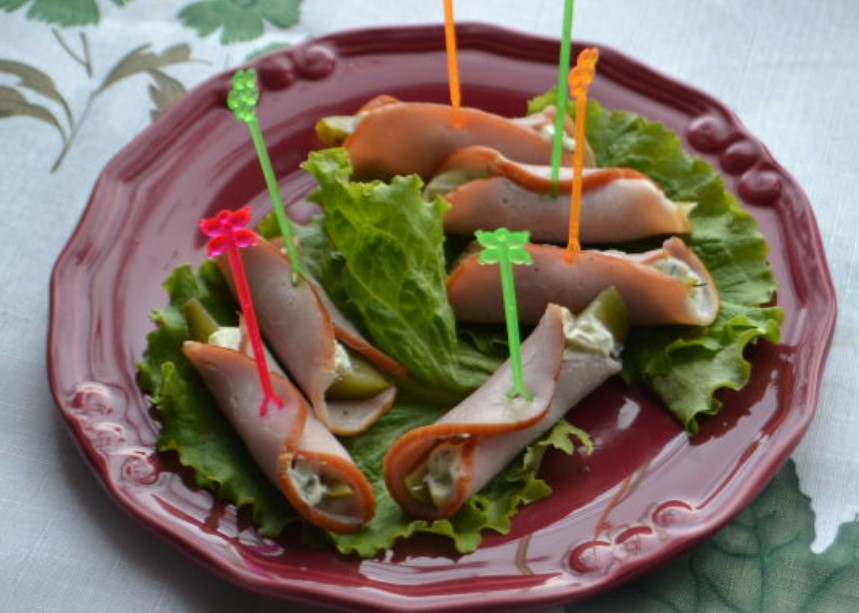 Delicious and quick-to-prepare holiday ham snack with cream cheese, garlic, herbs and pickles. Ham rolls look great on the holiday table.
Cook: 15 mins
Servings: 7
Ingredients
Sliced ​​ham – 7 slices
Pickled cucumber – 1 pc.
Cream cheese – 100 g
Garlic – 1 clove
Parsley, herbs – 2-3 sprigs
Dill, greens – 1 branch
Green onions – 1-2 pcs.
Ground black pepper – to taste
Lettuce leaves – for serving
Directions
We prepare the necessary products for ham rolls,
Chop the garlic, finely chop the dill and green onion feathers.
We put cream cheese on a plate, add chopped dill, green onions, and ground black pepper to it. (By the way, cream cheese can be replaced with mayonnaise. It also turns out delicious.)
Stir, leave to brew.
Pickled cucumber (not pickled!) Cut lengthwise into strips. The length of the strips should correspond to the length of the sliced ​​ham.
Put the cheese mass with garlic and herbs on the slices of ham. We spread it so that the edges of the ham remain free by about 1 cm.
In the center of each piece of ham (on the cheese mass) put one strip of pickled cucumber.

Wrap the stuffed ham slices with rolls. We fix the edge of the ham, rolled into a roll, with a toothpick. Snack rolls of ham, with cheese and pickles, ready, can be served.
To make the appetizer look more festive, ham rolls can be fixed not with toothpicks, but with multi-colored skewers. Decorate the cold appetizer with herbs – for example, serve on lettuce leaves.
Bon appetit!
Also Like
Comments for "Ham Rolls with Cheese and Pickles"