Eggplant Rolls with Cottage Cheese, Cheese and Nuts
by Editorial Staff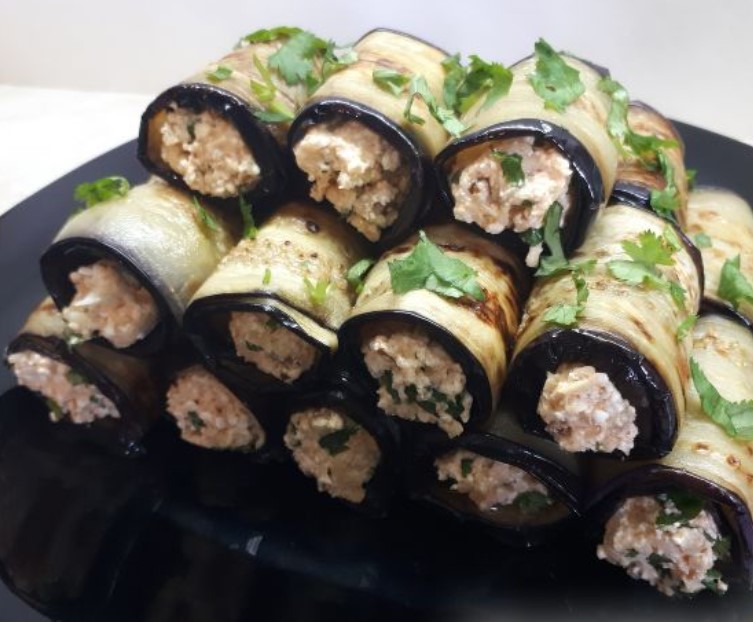 Awesomely delicious and spicy eggplant appetizer! Eggplant rolls will not leave anyone indifferent. The cottage cheese and cheese filling goes well with nuts, herbs and garlic pungency.
Ingredients
Eggplant – 2-3 pcs.
Hard cheese – 100 g
Cottage cheese (any fat content) – 150 g
Garlic – 3-4 cloves
Walnuts – 50 g
Cilantro greens – 1 small bunch
Ground paprika – 3 g
Mayonnaise or sour cream – 2-3 tbsp
Salt to taste
Vegetable oil – for frying
Directions
Wash the eggplants (it is better to take even, long fruits of the correct shape) and cut along plates 0.4-0.5 cm thick.I have young eggplants and they do not have bitterness yet, therefore I salt them and immediately start frying.
Eggplant must be fried on both sides until tender in a little oil.
After frying, it is advisable to spread the eggplants on a paper towel.

Prepare the ingredients for the filling. Grate the cheese on a fine grater, chop the nuts with a rolling pin, chop the herbs. Mash cottage cheese of any fat content with a fork, mix with nuts.
Add cheese.
There – greens, garlic, paprika passed through a press.
To make the filling homogeneous, add mayonnaise or sour cream and salt if necessary.
Mix everything thoroughly – the filling for the eggplant rolls is ready.
Put a little filling on a plate of eggplant and roll up, forming a roll.

Put the finished eggplant rolls on a plate in a slide, sprinkle with chopped cilantro and serve.
Bon Appetit!
Also Like
Comments for "Eggplant Rolls with Cottage Cheese, Cheese and Nuts"