Eggplant Stuffed with Cheese and Nuts
by Editorial Staff
Ruddy and delicious eggplant stuffed with cheese and nuts will make a splash on any table. The filling of two types of cheese, eggplant pulp and nuts, tastes very similar to meat. It is almost impossible to refuse such a dish!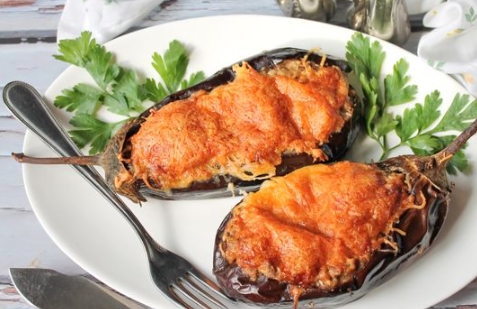 Cook: 1 hour 10 mins
Servings: 3
Ingredients
Eggplant – 400 g (3 pcs.)
Adyghe cheese – 120 g
Hard cheese – 40 g
Onions – 70 g (1 pcs.)
Garlic – 2 cloves
Egg – 1 pc.
Walnuts – 40 g
Sesame – 1.5 tbsp
Cilantro (greens) – to taste
Salt to taste
Ground black pepper – to taste
Vegetable oil – 2 tbsp + for greasing the mold
Directions
Prepare all the ingredients you need. Turn on the oven and preheat to 180 degrees.

Wash, dry and prick the eggplants with a fork in several places. Grease a baking dish with oil and put the eggplant there. Place the dish in a hot oven and bake the eggplant for 30 minutes. Remove the finished eggplants from the oven and let cool.

Put the Adyghe cheese in a bowl and mash it with a fork.
Chop the nuts and add to the cheese bowl.
Send sesame seeds to cheese and nuts.
Add the egg.
Finely chop the cilantro greens and add to the rest of the filling in a bowl.
Season with salt and mix well.
Peel and chop the onions. Peel the garlic and also finely chop or pass through a press. Heat vegetable oil in a skillet and add onion and garlic.
Saute the onion and garlic for 4 minutes.
Cut the finished cooled eggplants lengthwise on one side and remove the pulp without damaging the peel.
Chop the eggplant pulp and add to the pan with the fried onions and garlic. Fry everything for 3 minutes cool until warm.
Add the sautéed eggplant, onion and garlic to the cheese-filled bowl, season with salt, pepper and stir.
Fill the prepared eggplant with the filling. Grease a baking dish with oil and place the stuffed eggplant there.
Grate hard cheese on a fine grater and sprinkle on eggplant.

Place the dish in a hot oven and bake the eggplant and cheese at 180 degrees for 25 minutes. Remove the baked eggplant from the oven and serve immediately.
Bon Appetit!
Also Like
Comments for "Eggplant Stuffed with Cheese and Nuts"