Tomatoes Stuffed with Eggplant
by Editorial Staff
Summer pleases us with an abundance of various vegetables on the shelves of supermarkets and bazaars. How I love this time for a wide selection of healthy and tasty dishes! One of the novelties of this season for me was the "Tomatoes stuffed with eggplant" recipe. This appetizer can be served hot or cold.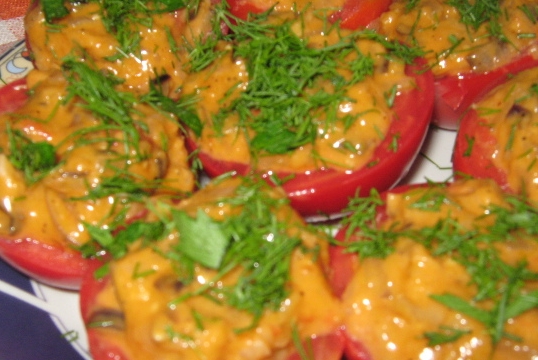 Ingredients
eggplant – 1 small
salad onion – 1 head
tomatoes – 5 pieces
garlic – 2 cloves
flour – 1 teaspoon
mayonnaise – 1 tbsp
vegetable oil for frying
salt to taste
pepper – to taste
dill and parsley for decoration
Directions
Wash a small eggplant (200-250 g), cut off the stem and cut into strips.

Chop the salad onions into strips.
Wash 5 tomatoes, cut in half, remove the cores. Chop the garlic finely.
Pour oil into a frying pan, add onion, fry until light golden brown, then add eggplant and flour, simmer for 5-7 minutes. Then put a spoonful of mayonnaise, tomato cores, garlic. Season with salt and spices. Continue braising until the tomatoes are tender (10-12 minutes).

Allow the minced meat to cool (at least a little), fill the tomato halves, sprinkle the stuffed tomatoes on top with finely chopped dill and parsley.
Bon Appetit!
Also Like
Comments for "Tomatoes Stuffed with Eggplant"