Stuffed Salted Eggplant
by Editorial Staff
Salted tomatoes, pickled cucumbers, sauerkraut – everyone knows and loves. And many undeservedly bypass salted eggplants. Although it is also a very good snack. We offer you a recipe for salted stuffed eggplant.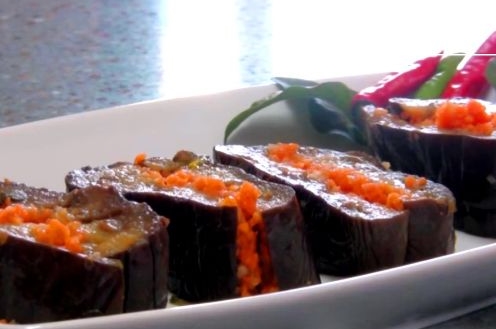 Ingredients
Eggplant – 2.5 kg
Carrots – 0.5 kg
Garlic (peeled) – 100 g
Celery – 1 bunch
Parsley – 1 bunch
Dill – 1 bunch
Water – 2 l
Salt – 100 g
Directions
To prepare stuffed salted eggplant, we prepare the ingredients.

Wash 2.5 kilograms of eggplant and put it in salted boiling water. Bring to a boil and cook, covered for 15 minutes.
While the eggplants are boiling, prepare the filling. We pass 500 grams of carrots and 100 grams of garlic through a meat grinder, add a teaspoon of salt and half a teaspoon of ground black pepper. Stir
Coarsely chop one bunch of celery, parsley and dill and put in a separate bowl.
Take out the eggplants in a colander and cool. We cut the eggplant in half lengthwise, up to the stalk, open and put the filling on the lower half with a layer of 0.7 centimeters.
Cover with the top half and twist well with a thread so that the filling does not fall out.
We put the eggplants in a bowl for salting.
Sprinkle each layer generously with herbs.
Cover with a plate and pour in the cooled brine made from two liters of water and 100 grams of salt. We put oppression on a plate, cover with a lid or cloth and leave at room temperature for 7-8 days.

The eggplants are ready. Put the eggplant on a plate, remove the thread, cut into pieces and serve. KEEP EGGPLANTS IN COLD
Enjoy your meal!
Also Like
Comments for "Stuffed Salted Eggplant"