Stuffed Eggplant
by Editorial Staff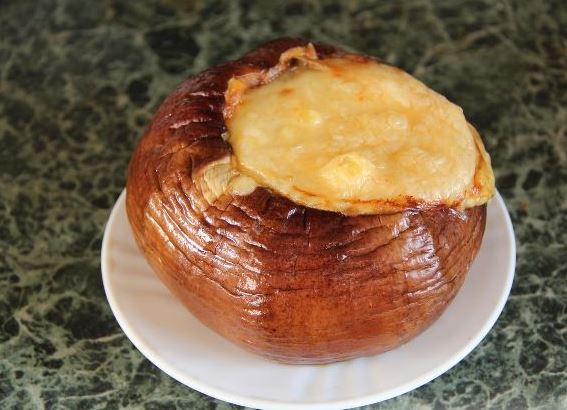 I really love shah-pumpkin – small, portioned pumpkins stuffed with lamb and onions, or pilaf with dried fruits or something else. Therefore, when I saw huge round eggplants on the market, I could not resist.
Servings: 4
Ingredients
Large round eggplants – 2 pcs.
Fatty pork – 400-500 g (four hundred was not enough for me)
Small onion – 1 pc.
Garlic – 3-4 cloves
Medium hot juicy pepper – 2 pcs.
Small juicy tomatoes – 6-7 pcs.
Lemon – 1/4 pc.
Cheese – gram 100
Olive oil
Salt
Spice
Directions
Cut off the top of the eggplant, and then use a knife and spoon to carefully scrape out the pulp, leaving the walls about 1 cm thick. Salt them well from the inside. Finely chop the pulp and fry in olive oil with half the garlic until the liquid evaporates and is confidently golden brown. Salt, spices (oregano, basil, a little pepper), in the end, season with juice from a lemon wedge. Leave to cool.
Fry finely chopped onion in lard or olive oil until golden brown, add garlic, and then finely chop pork into pieces. When the meat turns beige, add finely chopped pepper. After evaporation of the liquid – chopped tomatoes without skin (I just rubbed them on a coarse grater, the skin itself will remain in my hands). We introduce any fragrant spices to taste (thyme, dried tomatoes, dill), season with lemon juice.
Put both fillings in layers in dried eggplants – I got meat-caviar-meat-caviar. I didn't want to use cheese in this recipe, but due to a mistake with the amount of meat, the filling was not enough by about 1.5 cm to the sides. When baked, the sides would sink inward and spoil the view, and the filling would most likely leak out. And I didn't want it to dry out. So I rubbed the cheese and plugged the holes in the eggplants tightly.
Lubricate the ceramic mold with olive oil, set the eggplants vertically with the help of foil rolled into balls, and send them to the oven preheated to 200 degrees. After half an hour, I lowered the heat to low and kept the stuffed eggplants in the oven for another hour. We check the readiness by the arance.
Pleased with the contrast of spicy minced meat, spicy caviar, and fresh eggplant walls. And the cheese lids somehow ate by themselves. 🙂
Also Like
Comments for "Stuffed Eggplant"