Eggplant Rolls with Ricotta
by Editorial Staff
Uriel Stern's eggplant rolls with ricotta are a great dish to spice up your meal.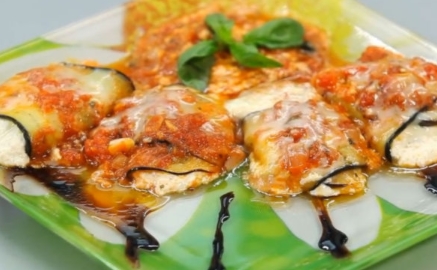 Ingredients
For rolls:
Large eggplant – 1 pc.
Ricotta – 200 g
Mozzarella or Dutch cheese – 50 g
Olive oil – 50 ml
Salt to taste
Pepper to taste
For the sauce:
Shallot – 0.5 pcs.
Garlic – 2 cloves
Canned tomatoes in their own juice – 400 g
Dried oregano – 1 teaspoon
Dried basil – 1 teaspoon
Olive oil – 2 tbsp
Lemon juice – 1-2 teaspoon.
Fresh green basil – 3-4 leaves
Salt to taste
Sugar to taste
Directions
We immediately put a wide saucepan on the fire – let it warm up. Pour in olive oil.

And quickly, quickly crush and chop the garlic finely.

We send it to the stewpan. We mix.
Take the shallots. Why exactly shallots? It makes the taste softer. Finely chop the onion.
And we send the onion to the garlic. Stir, wait: we need to bring the onion and garlic to translucency, but not overcook.
Add the tomatoes along with their own juice. You can whole, but it is more convenient already crushed. Stir, cover with a lid – let everything be stewed.
We take the eggplant, cut off the stalk. We cut it lengthwise into thin slices, 3-4 millimeters each – no thicker needed.
We put a frying pan on the fire, pour in the olive oil. Fry each slice on both sides. Please note: Eggplant will absorb a lot of oil. Don't forget to add! You do not need to deeply fry the eggplants – let our slices become soft, slightly golden.
While the eggplant is cooling, we check our sauce.
Add sugar – this is a must – and salt.
Add a dry mixture of basil and oregano, a couple of fresh green aromatic basil leaves. Stir clockwise, cover with a lid.
Now let's get down to our minced meat. We take a little mozzarella, rub it on a fine grater, add it to the ricotta. Salt a little and mix our cheeses.
We proceed to a responsible procedure – we will stuff our eggplants.
Take the fried eggplant slice. We spread the cheese mixture on the widest part – generously, there is no need to save here – a tablespoon with a slide will be just right.
And we wrap our ricotta in eggplant like rolls are rolled.
Let's check our sauce. Try it: Add a little lemon juice and pepper.
Stir for the last time and carefully place our stuffed eggplants in a saucepan. Let them stand a little, soak, make friends with a wonderful sauce.
Sprinkle with the remaining mozzarella.

Serving. Put the sauce on a plate, eggplant on it, and a little more sauce on top. The final touch: decorate the plate with a couple of fresh basil leaves, a pattern of evaporated balsamic vinegar.
Bon Appetit!
Also Like
Comments for "Eggplant Rolls with Ricotta"