Rolls With Chicken
by Editorial Staff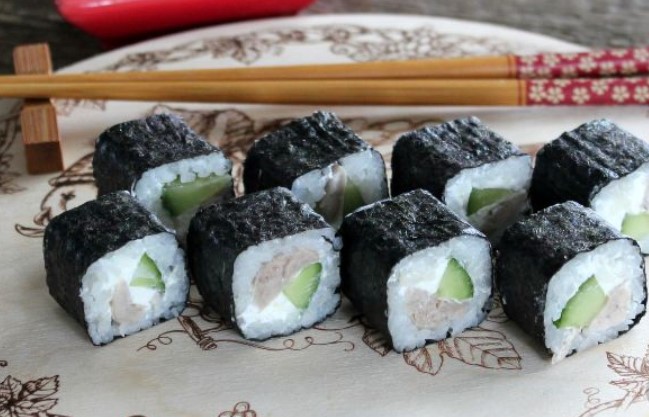 Chicken rolls are a delicious and popular variation. Chicken meat for such rolls can be any (breast, drumstick, thigh) and cooked in any way (boiling, frying, baking, smoking).
Cook: 40 mins
Ingredients
For five rolls:
Rice – 1 cup / 200 ml
Chicken drumsticks – 4-5 pcs.
Nori – up to 5 sheets
Soft cheese – 150 g
Long cucumber – 1 pc.
Water – 1.3 cups / 250 ml
*
For filing:
Soy sauce
Pickled ginger
Directions
For rolls, prepare nori sheets, chicken meat, sushi or round grain rice (for example, Krasnodar), soft cheese (cream cheese, curd or cream cheese) and fresh cucumber.

How to cook rolls with chicken and cucumber: Cook chicken meat, for example, drumsticks until tender.
(You can cook at the same time as boiling the soup, so that the broth and part of the meat remain for him, and the other part is used for rolls.)
Rinse the rice thoroughly in several waters first.
Then fill with fresh cold water and bring to a boil. Cover, set to low heat, and simmer for 14-15 minutes. You do not need to open the lid during this time!
The end result is rice with the desired properties: grains, but not crumbly and sticky, but not sticky.
Cool the rice until at least warm.
For rolls, you can use a different amount of nori to your taste: whole leaf, half leaf or 2/3.
(In this variant, a whole sheet is taken and the roll is wrapped in 2 times, ie, a turn.)
Place the nori sheet on the makisu (mat) with the shiny side down.
With your hands soaked in vinegar-acidified water, grab a snowball-sized serving of rice or a good handful.
Spread the rice evenly over the nori, just over half the width.
Add about 1.5-2 tablespoons of soft cheese in a strip.
Then place the cucumber, cut into strips or long slices and pieces of chicken meat in parallel.

Wrap the filling in the rice with a twisting motion away from you. (The photo shows that almost half of the nori would be enough for a roll, but some prefer a thicker nori layer …)
Lightly dampen the rest of the nori in several places with water (damp fingers) and roll to the end. Give it its final shape with makisa.
Cut the finished chicken rolls across with a sharp knife, periodically soaked in water. Serve with soy sauce and pickled ginger.

Good appetite!
Also Like
Comments for "Rolls With Chicken"