Oven-Baked Zucchini with Minced Meat and Rice
by Editorial Staff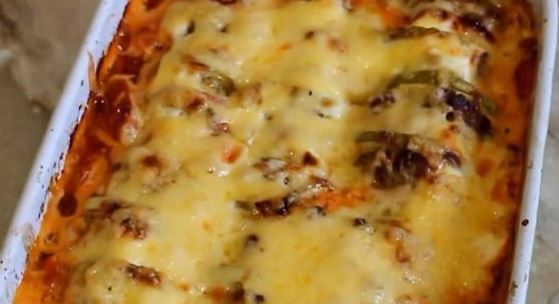 You can cook a huge number of different delicious dishes from zucchini, but baked zucchini is most useful. According to this recipe, zucchini is baked in the oven with minced meat, rice, tomatoes, and cheese.
Ingredients
Zucchini – 3 pcs.
Minced meat – 100-150 g
Rice – 2 tbsp
Tomatoes – 3-4 pcs.
Hard cheese – 150 g
Salt to taste
Ground black pepper – to taste
Sour cream – 2 tbsp
Tomato paste – 1 tbsp
Directions
Boil rice and mix with minced meat, season with salt, pepper, and stir. Cut the courgettes into 5 mm thick slices. Cut the tomatoes into thinner slices.
For each zucchini circle, put 1 tablespoon. a spoonful of minced meat, place a circle of tomato on top. In this form, lay the zucchini tightly on a baking sheet with the side surfaces up.
Put the tomato paste in a separate bowl.

Add sour cream and water (200 g) to the tomato paste. Season with salt and stir. Pour the prepared mixture over zucchini with minced meat and tomatoes. Send to the preheated oven for 35 minutes. 5-7 minutes until ready, sprinkle the zucchini casserole with grated cheese and put the baking sheet in the oven again.

Zucchini baked in the oven with minced meat, rice and tomatoes are ready. Serve the zucchini and meat casserole hot.
Enjoy cooking!
Also Like
Comments for "Oven-Baked Zucchini with Minced Meat and Rice"