Zucchini Baked with Minced Meat and Cheese
by Editorial Staff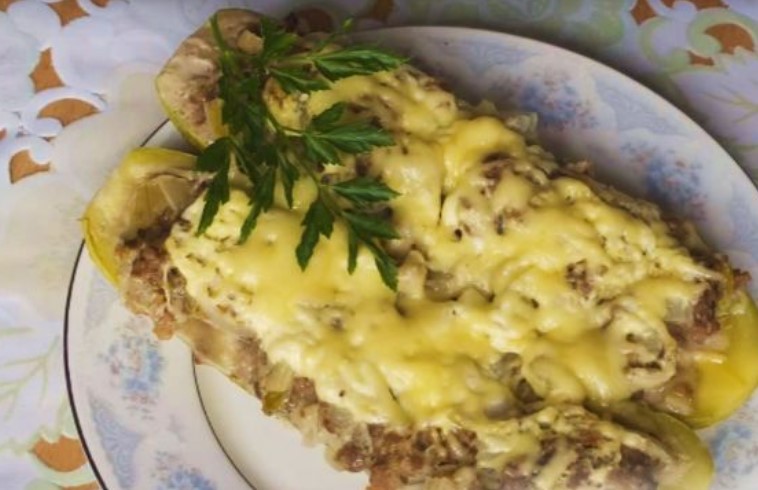 Zucchini baked with minced meat and cheese are cooked in the oven in foil, so the dish turns out to be very juicy and tasty.
Cook: 1 hour
Servings: 4
Ingredients
Zucchini – 2 pcs.
Minced meat – 200 g
Hard cheese – 50 g
Bulb onions – 1 pc.
Egg – 1 pc.
Salt – 0.5 teaspoon
Seasoning universal – 1 teaspoon
Vegetable oil – 1 tbsp
Directions
Prepare ingredients for zucchini baked with minced meat and cheese. Peel, wash and finely chop the onion. Place minced meat in a deep container, add onion and egg.
Salt the minced meat and add spices. Mix everything gently until smooth.

Cut the courgettes in half lengthwise. If you took more mature fruits, then the seeds must be removed and the zucchini must be peeled from the coarse rind.
Place the zucchini in a foil-lined skillet (tin) or baking sheet.
Spread the minced meat evenly over the zucchini.
Put the sour cream in a separate container and squeeze out 3 cloves of garlic. Mix well.
Put sour cream sauce on top of the minced meat.
Pour in a little water (0.5 cups). Sprinkle the vegetable oil on the zucchini with minced meat.
Cover the zucchini with foil. Place in an oven preheated to 180 degrees for 30-40 minutes.
Grate the cheese on a fine grater. Remove the minced zucchini from the oven and sprinkle with grated cheese on top. Place in the oven for another 10 minutes.

Zucchini baked with minced meat and cheese are ready.
Bon Appetit!
Also Like
Comments for "Zucchini Baked with Minced Meat and Cheese"