Zucchini Baked with Minced Meat and Rice
by Editorial Staff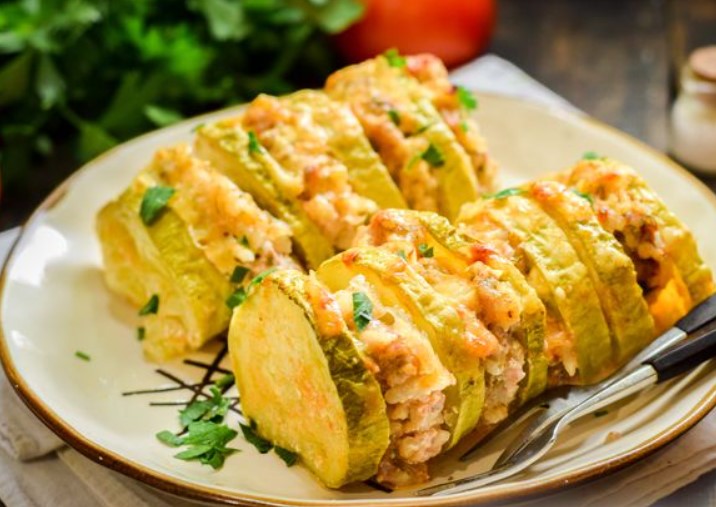 Zucchini baked with minced meat and rice is a truly appetizing dish for every day. It turns out tastier than stuffed cabbage. Preparing quickly and easily.
Cook: 1 hour
Servings: 4
Ingredients
Zucchini – 500-600 g (2 pcs.)
Minced meat (pork and beef) – 500 g
Onions – 80 g
Rice – 70 g
Hard cheese – 100 g
Fresh dill – 15 g
Vegetable oil – 2 tbsp
Hops-suneli – 0.5 teaspoon
Dried granulated garlic – 0.5 teaspoon
Salt to taste
Ground black pepper – to taste


To fill:

Sour cream – 250 g
Ketchup – 2 tbsp
Water – 150 ml
Directions
Prepare everything according to the list.
You can use any minced meat (I have pork and beef).
During the cooking process, we need foil.

Rinse the rice, pour into a saucepan, pour 150 ml of water, add a pinch of salt and boil for 12-15 minutes, until tender.
Peel the onion, wash and dry. Cut the onion into small cubes.
Put the minced meat and cooled rice in a bowl.

Add chopped onion next. Rinse and dry the dill, chop finely and also add to the filling. Add salt, pepper, suneli hops and dried garlic.
Stir everything well with your hands until smooth. Preheat oven to 180 degrees
Wash and dry the zucchini, cut into slices of medium thickness.
Place a little minced meat and rice filling between the zucchini slices.
Cover the form with foil and grease with oil. In the same way, collect all the zucchini (see photo) and put in a mold.
In a bowl, combine sour cream and ketchup.
Pour warm water into the sour cream, mix well until smooth.
Pour the sauce over the zucchini with minced meat and rice

Grate cheese on a coarse grater. Sprinkle cheese over zucchini. Cover the form with foil and bake for 50 minutes at 180 degrees.
Gently remove the finished dish from the oven, remove the foil.
Arrange the zucchini on plates.
Serve zucchini baked with minced meat and rice to the table as an independent full-fledged dish, you can add fresh vegetables and herbs.

Enjoy your meal!
Also Like
Comments for "Zucchini Baked with Minced Meat and Rice"