Zucchini Casserole with Minced Meat in the Oven
by Editorial Staff
Zucchini casserole is always a tasty and healthy dish that your whole family will love. The casserole can be made only from zucchini, or with the addition of minced meat, mushrooms, vegetables.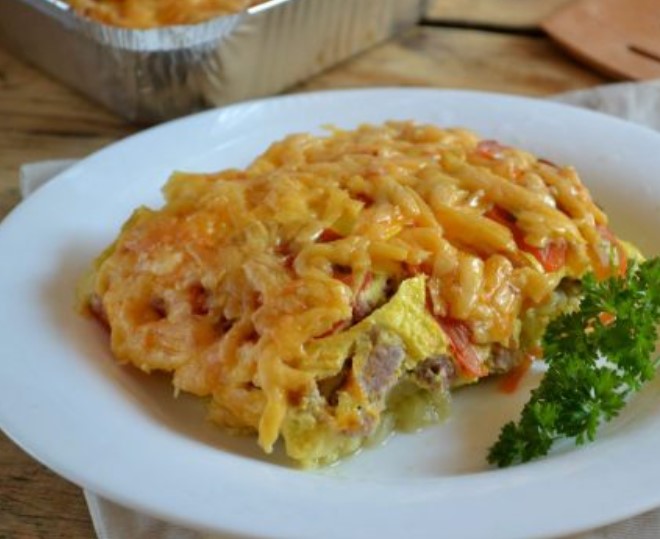 Cook: 1 hour
Servings: 3-4
Ingredients
Zucchini – 2 Pieces
Minced pork – 250 Grams
Tomatoes – 3-4 Pieces
Sour cream – 250 grams
Egg – 1 Piece
Hard cheese – 100 Grams
Salt – 1
Ground black pepper – 1 Pinch
Directions
Prepare all the required ingredients. Peel the zucchini if ​​the skin is already white and hard. If the zucchini is still young with soft skin, then you can not peel them, but just rinse them thoroughly under running water.
Grate the zucchini on a coarse grater. Place them in a baking dish and sprinkle with salt.
Add salt and pepper to the minced pork to taste, remember it well. Spread the minced meat in an even layer over the courgettes.
Prepare the fill. Mix sour cream with egg, add a little salt.
Pour the sour cream mixture over the contents of a baking dish (zucchini with minced meat).

Place the tomato slices on top. Send the dish to the oven, bake for 30 minutes. Baking mode – 200 degrees.
Sprinkle the grated cheese on the dish, send it to the oven for another 15 minutes.
Zucchini casserole with minced meat in the oven is ready. Serve it hot.
Bon Appetit!
Also Like
Comments for "Zucchini Casserole with Minced Meat in the Oven"