Minced Meat Casserole with Young Zucchini and Tomatoes
by Editorial Staff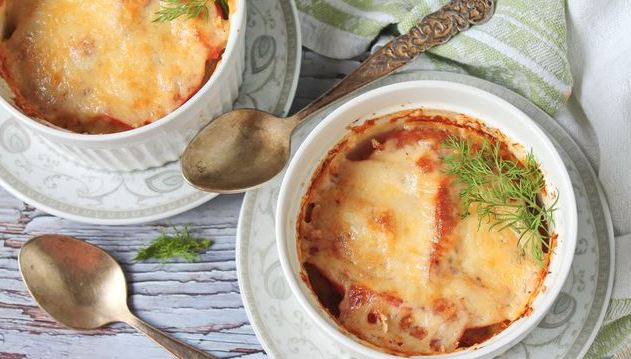 A casserole with minced meat, zucchini, and tomatoes is a great option for lunch. The dish turns out to be nutritious, very tasty, and aromatic. For casserole according to this recipe, grated zucchini are pre-fried and then baked on a carrot-onion "pillow", under a layer of minced meat and tomatoes. The golden cheese crust gives the dish a delicious appearance. Try it!
Cook: 20 minutes
Servings: 2
Ingredients
Minced pork – 200 g
Hard cheese – 50 g
Young zucchini – 220 g (1 pcs.)
Tomato – 100 g (1 pcs.)
Bulb onions – 1 pc. (40 g)
Carrots – 1 pc. (50 g)
Garlic – 1 clove
Ground black pepper – 3 pinches (to taste)
Salt – 3 pinches (to taste)
Vegetable oil – 2 tbsp
For the filling (optional):
Directions
Peel the zucchini and grate on a coarse grater (since the zucchini is young, you do not need to remove the seeds). Put the zucchini in a frying pan preheated with vegetable oil.

Fry the zucchini over low heat for 10-15 minutes, until the liquid evaporates. Peel the garlic, grate on a fine grater and add to the pan, stir. Fry for another 1 minute and remove from heat.
Turn on the oven to heat up to 190 degrees. Peel the onion, cut it into thin half-rings, and evenly spread it into portioned molds (I have molds with a diameter of 10 cm and a height of 6 cm).
Peel the carrots and cut them into thin slices. Divide the carrots into two equal portions and place in the tins on the onions.
Then spread the sautéed zucchini evenly on the carrot layer. Put the minced meat in a bowl, add 2 pinches of salt and 2 pinches of ground pepper, mix.

Divide the minced meat into two equal parts and place in the tins over the vegetables. Smooth the minced meat by pressing lightly. Cut the tomato into slices and place it tightly on the meat. Sprinkle with the remaining salt and ground pepper.
Cover the molds with lids or foil. Send the molds to an oven preheated to 190 degrees for 30 minutes.
After the time has elapsed, grate the cheese on a fine grater. Remove casserole from oven and sprinkle with cheese.
Return the casserole to the oven and bake for 5-10 minutes, until golden brown. Minced meat casserole with young zucchini and tomatoes is ready. Let stand for 5-10 minutes. Rinse and dry the dill. Serve the casserole, garnish with a sprig of dill.
Bon Appetit!
Also Like
Comments for "Minced Meat Casserole with Young Zucchini and Tomatoes"