Rice with Eggplant and Bedouin Cauliflower
by Editorial Staff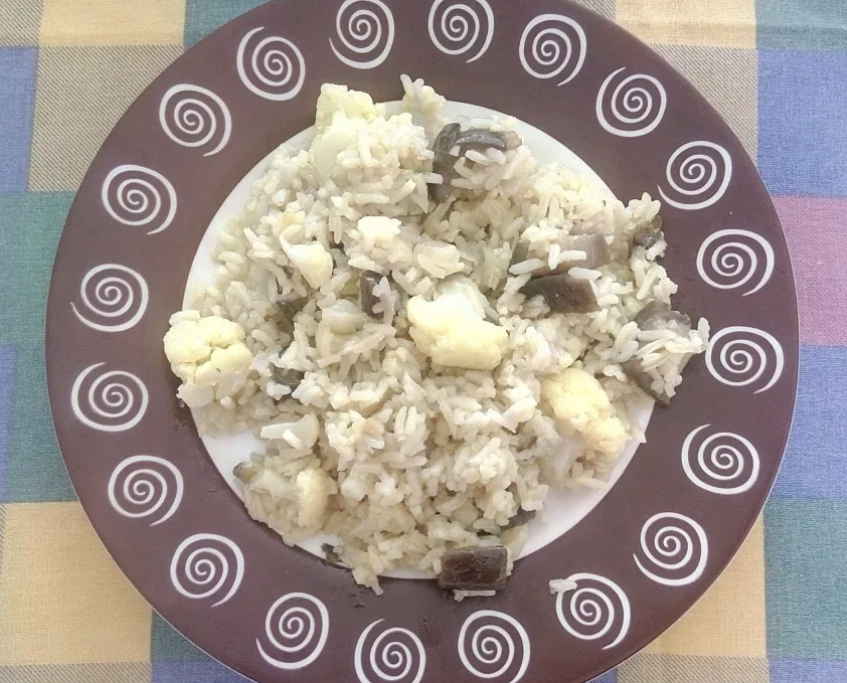 Today I want to introduce you to the recipe for rice with eggplant and cauliflower, which Adil prepares (this is the name of my colleague). This is a vegan dish, so I gladly included it in my diet.
Ingredients
long white rice (about 150 g);
eggplant (1 pc);
cauliflower (about a quarter of the head);
onion (1 pc);
garlic (1 clove);
salt, curry seasoning (to taste);
olive oil (for frying).
Directions
In short, we cut the eggplant into cubes, throw it into a saucepan in which we will cook our dish (it is better to take a saucepan with a thick bottom, as we have to fry everything right in it), and salt. Let it stand for a while so that the eggplant starts to juice.
During this time, clean and chop the onion (as usual) and cut the cauliflower into small florets. We also clean and chop the garlic.
We squeeze the eggplant, drain the juice into the sink, and add everything that you chopped to the eggplant (onion, garlic, cauliflower).
Rice with vegetables oriental recipe:

We put the pan on the fire. Pour in some olive oil and lightly fry the vegetables, stirring occasionally with a spoon. While they are fried, rinse the rice, drain the water, and add the rice to the vegetables to be fried. Stir until the rice is also lightly fried. Throw in some curry and add salt. If you initially salted the eggplant well, now you don't need to salt it.

During this time, we manage to boil a kettle with water. Pour boiling water into our saucepan with rice, vegetables, and seasonings. So that the water slightly covers all the components, no more than a centimeter. Stir and close with a lid. The fire should be the smallest so that the dish slowly languishes. The cooking process is no different from pilaf. Such a vegan pilaf.
I cooked this dish several times. And, as an experienced user, I want to warn you against two mistakes (do not step on my rake) – do not take round rice and do not overdo it with the amount of water. Otherwise, you will get rice porridge with vegetables.

Rice for this dish needs to be taken good, smooth, long. And it is better not to add water than to pour it over. Then, during the cooking process, adding is not a problem. Just add boiling water, not cold water. Although why am I telling you common truths?

vegetarian pilaf with eggplant and cauliflower

In the finished dish, the rice should remain separate (rice with rice should not stick together).
Enjoy your meal!
Also Like
Comments for "Rice with Eggplant and Bedouin Cauliflower"