Vegetarian Shawarma
by Editorial Staff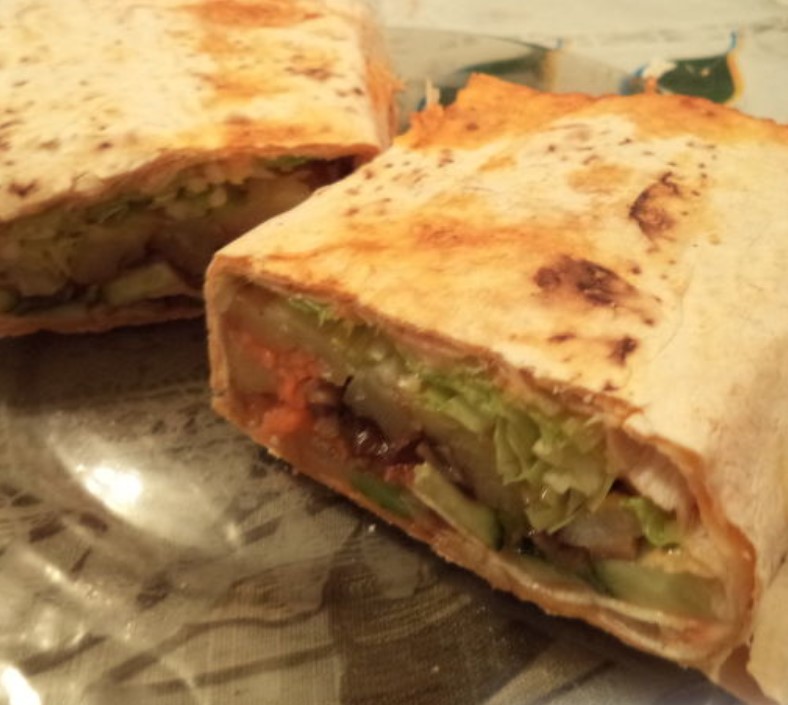 Just make homemade shawarma for dinner. Today we are preparing a vegetarian version – with mushrooms and vegetables. Vegetables can be very different. Shawarma for a picnic is also good.
Cook: 30 mins
Servings: 3
Ingredients
Thin lavash – 3 pcs.
Champignons – 200 g
White cabbage (or Peking cabbage) – 200 g
Potatoes – 4-5 pcs.
Tomato – 1-2 pcs.
Cucumber – 1 pc.
Korean carrots – 100 g
Bulb onions – 1 pc.
Vegetable oil – 30 ml
Mayonnaise – 100 g (to taste)
Ketchup – 50 g (to taste)
Salt to taste
Pepper to taste
Directions
Wash the mushrooms, cut into cubes or slices.
Peel the onion, wash, chop finely.
Preheat a frying pan, pour in vegetable oil. Put mushrooms and onions in hot oil. Fry over medium heat, stirring occasionally, for 5-7 minutes. Season with salt and pepper to taste. Mix.

Peel the potatoes, wash, cut into cubes. Pour vegetable oil into the pan. Put potatoes in hot oil. Fry over medium heat, stirring occasionally, until tender (15-20 minutes). Salt. Mix.
Cut the cabbage into thin strips. Wash the cucumber, cut into strips.
Wash the tomatoes, cut into slices.
Collect shawarma. Spread a sheet of thin pita bread. Add 2 tablespoon. tablespoons of mayonnaise and tablespoon. a spoonful of ketchup. Stir, grease pita bread.
Step back a little from the edge, put 1/3 of the vegetables (cucumber, fried potatoes, cabbage, mushrooms with onions, Korean carrots).

Roll up the lavash tightly with an envelope. So make three shawarmas.
Preheat a dry skillet. Put out the shawarma. Heat on one side over medium heat (1 minute). Then turn over and warm up on the other side for 1 minute.
Vegetarian shawarma is ready.
Serve the veggie shawarma hot
Enjoy your meal!
Also Like
Comments for "Vegetarian Shawarma"