Brownie (Classic Recipe)
by Editorial Staff
Brownie is one of the most popular desserts in the US and Canada. It can be found in any cafe and pastry shop, and lovers of homemade baked goods are sure to bake it at home. I want chocolate – here's the recipe!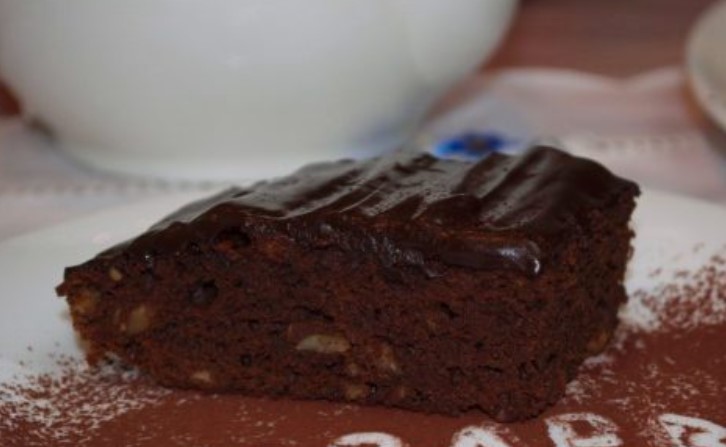 Cook: 40 mins
Servings: 10
Ingredients
Chicken Egg – 2 Pieces
Chocolate – 200 Pieces
Vegetable oil – 2 Tbsp. spoons
Wheat flour – 100 grams
Walnuts – 100 Grams
Baking powder – 1 teaspoon
Butter – 100 grams
Directions
Whisk 2 eggs into a small bowl. Add sugar (200 grams). Beat eggs and sugar until sugar dissolves. This can be done with a fork or whisk.
It is not necessary to beat eggs strongly. The degree of beating of the eggs is more likely called mixing.
Place a chocolate bar (100 grams with at least 70% cocoa) in a bowl. Add 100 grams of butter. In a steam bath, melt the butter and chocolate until smooth. Do not overheat the chocolate or it will stratify.
Put the egg mass into the chocolate.
Peel the walnut kernels.
Grind the nuts into small crumbs using a blender. It is not necessary to interrupt them until they are perfectly uniform. Some pieces may be larger.
Add chopped nuts and 100 grams of sifted flour and 1 teaspoon of baking powder to the mass.
Knead the dough.
Line a baking dish with parchments. Pour the dough into it, flatten. Preheat the oven to 170 degrees, bake the brownies in the oven for about 25-30 minutes.

Remove the finished brownie from the mold.
Remove the baking paper. Let the dessert cool. Melt 100 grams of chocolate. Add 2 tablespoons to the chocolate mass. tablespoons of vegetable oil, mix. Place the chocolate icing on the cooled brownie. Chill the entire dessert in the refrigerator (about an hour).
Cut the cake into rectangular pieces and serve.
Bon appetit!
Also Like
Comments for "Brownie (Classic Recipe)"