Appetizing Fajitas: a Classic Recipe
by Editorial Staff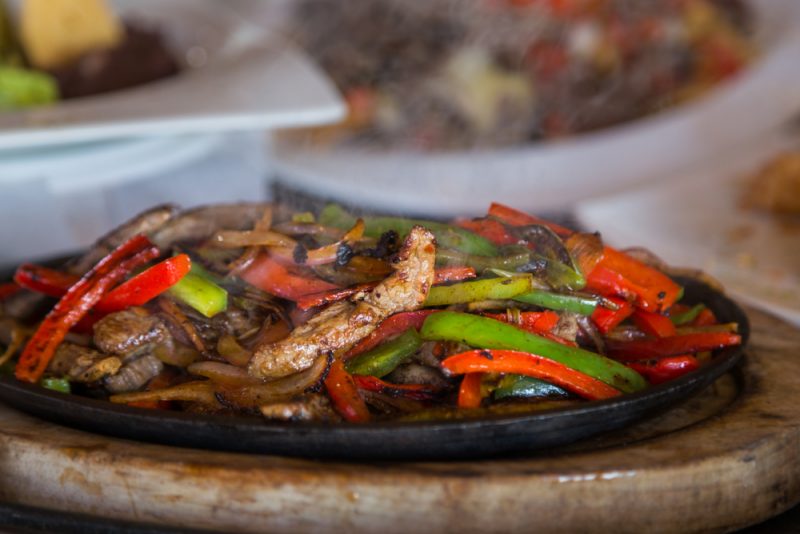 The dish needs not only to be cooked deliciously but also to be cut correctly. If translated literally, then fajitas mean stripes. Therefore, all components should be cut into long thin strips. The dish is fried on the grill or in a skillet with the addition of a large amount of vegetable oil. The filling can be spread directly into the tortilla and secured with a skewer. You can serve meat and vegetables on a fast basis and layout the toasted tortillas separately. An indispensable addition to fajitas is guacamole sauce.
Ingredients
Beef tenderloin – 400 grams;
White onion – 1 head;
Bulgarian pepper – 1 piece;
Tomato – 1 piece;
Zucchini or small zucchini – 1 piece;
Vegetable oil – 2 tablespoons;
Sour cream – 2 tablespoons;
Tequila – 20 ml;
Avocado – 1 piece;
Lime – 1 piece;
Chili pepper – 1 piece;
Jalapeno pepper – 1 piece;
Cilantro, oregano – a pinch;
Spices to taste.
Directions
First, let's prepare the guacamole sauce. To do this, clean the avocado, remove the pit, cut it into small pieces, mix with lime juice.
We pass the mass through a blender. Put the sauce on a plate and decorate it with pepper;
Cut the bell pepper into strips and fry in a small amount of vegetable oil;
Cut the onion into cubes and fry in vegetable oil in another skillet. Add chopped beef and spices to the onion.
Rub the lime zest and add to the meat. Add chopped cilantro, oregano, tequila. We are waiting for the alcohol to evaporate;
Fry the tomato and zucchini separately, cut into strips. After the vegetables are ready, add them to the beef;
Mix all the ingredients in a skillet with meat and serve with toasted tortilla, guacamole sauce, and sour cream.
Also Like
Comments for "Appetizing Fajitas: a Classic Recipe"