Fajita for Breakfast
by Editorial Staff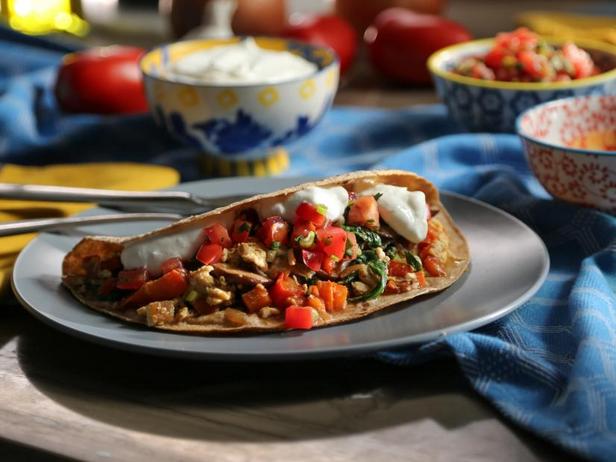 Fajita for Breakfast In this vegetarian version of Fajita, meat has been completely replaced by vegetables, making it a light, fiber-rich dish perfect for breakfast. In addition, by its appearance, it will be able to cheer up in the morning. The filling is salsa, which is very fond of Dominic – Valerie Bertinelli's stepson. As Valerie herself notes, most likely, salsa can be stored in the refrigerator for a week, but she is not sure about this, since the dish in her house did not last longer than 1-2 days. Since this New Year, Valerie has only been stocking up on food that she can feed her family, but not fatten.
Cook: 35 minutes
Servings: 4
Ingredients
Fajita
4 wheat tortillas with a diameter of 20 cm.
1/2 teaspoon olive oil
1 red bell pepper, cored, seeded, and cut into thin strips
1 onion, halved and cut into thin rings
1 tablespoon. mushrooms "cremini", cut into slices
1.5 teaspoon. Fajita spice mix, recipe attached
4 egg whites, beaten
1 tablespoon. Dominica salsa, for serving
Hot sauce, for serving, optional
Low fat sour cream, for serving, optional
Fajita Spice Blend
2 tbsp chili powder
2 teaspoon ground cumin
2 teaspoon garlic powder
1 teaspoon onion powder
1 teaspoon brown sugar
1 teaspoon paprika
1/2 teaspoon cayenne pepper
1/2 teaspoon salt
1/4 teaspoon cornflour
Salsa Dominica
5-6 Roma tomatoes, diced
8-10 pcs. shallots, white and light green parts, chopped
1/2 part jalapeno pepper, seedless, finely chopped
1-2 cloves of garlic, finely chopped to almost a paste
1 tablespoon. cilantro, chopped
1-2 lime juice
2 teaspoon red wine vinegar
1/2 teaspoon salt
1/2 teaspoon ground white pepper
Directions
Preheat oven to 93 ° C. Spread the tortillas in a single layer on a wire rack to reheat.
Heat vegetable oil over medium-low heat in small, prepared cast iron or nonstick skillet.
Sprinkle lightly with water. If the drops fizz and evaporate, the pan is hot enough. Add bell pepper, onion, and sauté until soft and aromatic (8 minutes). Add mushrooms and fajita spice mixture. Continue to sauté until the aroma appears and the vegetables are completely warmed up.
Add the egg whites to the skillet. As they begin to set, use a silicone spatula to stir into the vegetables. Move liquid areas to a hot surface. When done, season with salt and pepper.
Place the fajita filling on the table in the skillet and spoon over the heated tortillas. Serve separately with Dominica salsa or hot sauce (if using) and sour cream (if using).
Spice Blend: Combine chili powder, cumin, garlic powder, onion powder, brown sugar, paprika, cayenne pepper, salt, cornmeal, and some black pepper in a small bowl. Stir with a whisk. Store in a small jar with a tight-fitting lid. The mixture is suitable for use within 2 months.
Salsa: Combine tomatoes, chives, jalapenos, garlic, cilantro, lime juice, and vinegar in a medium serving bowl. Add salt and pepper. Stir. Let stand at room temperature for 10 minutes, then stir again.
Also Like
Comments for "Fajita for Breakfast"