Fajitas with Beef
by Editorial Staff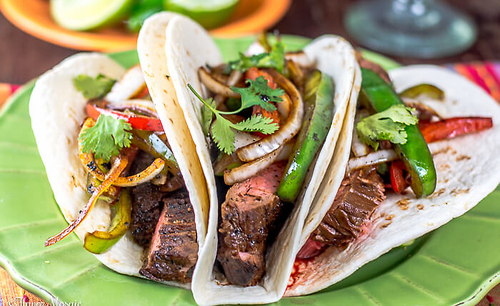 Fajitas is one of the most famous Mexican dishes that has become popular far beyond Latin America. Fajitas is named after the word "fajita" which means strip. That is how all the ingredients are cut into strips. The dish is served in a hot skillet. Separately, warmed wheat tortillas, salsa sauce, guacamole, sour cream go to it … Everyone chooses the filling himself and collects his own recipe for fajitas with beef. First, he puts the "base" (fried meat with vegetables) on a warm flatbread and then complements it with his favorite sauces and fresh vegetables. Fajitas with beef are eaten with their hands very carefully, making sure that the filling does not fall out of the tortilla.
Ingredients
Flank Primebeef Steak – 1 pc.
Onions – 1 pc.
Sweet peppers of different colors – 2-3 pcs.
Salt
Vegetable oil
For the marinade:
Juice of 1 lime
2 tablespoons olive oil
2 cloves garlic, minced
1/2 teaspoon ground cumin
1/2 fresh jalapenos or chili peppers (peeled from films and seeds)
1/4 cup fresh cilantro, chopped, including stems
Directions
Combine all the ingredients for the marinade, immerse the steak and leave at room temperature for an hour or longer, but refrigerate. Before cooking meat, brush off any remaining marinade from the surface and sprinkle salt on the steak.
Heat a large cast-iron skillet over high heat for 1 to 2 minutes. Add a tablespoon of oil and heat for 1 minute. Sear the steak on each side for 3 minutes or until cooked to the desired degree. If the pan starts to smoke a lot, reduce the heat to medium. Finally, transfer the steak to a board and cover with foil for 5 minutes.
While the meat is resting, cook the vegetables. Cut the onion into half rings and the pepper into strips. Add oils to the skillet, if necessary, and sauté them in hot oil for 1 minute, then stir every 90 seconds. Continue cooking for another 5-6 minutes.
Cut the meat against the grain into thin slices. If you cut at an angle, the pieces will be more neat and tender.
As an additive to fajitas is suitable: lettuce, avocado, salsa sauce, green onions, sour cream, cilantro, cheese, guacamole. To soften the corn tortilla, heat it in the microwave for 20 seconds or in a hot dry skillet.
Also Like
Comments for "Fajitas with Beef"