Fajitas with Beef Steak and Chicken
by Editorial Staff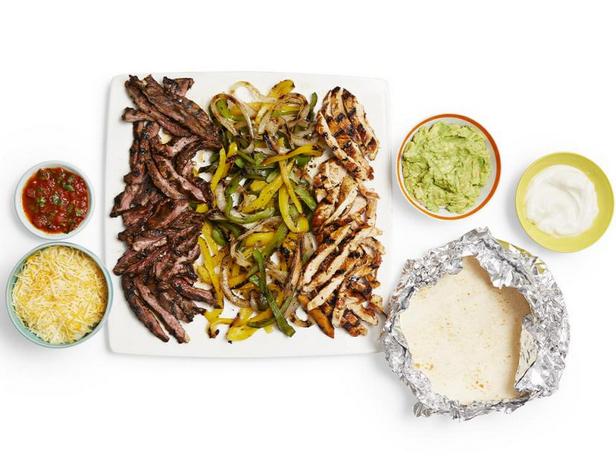 If you decide to cook something more interesting than just grilled meat during a grill party, fajita is perfect. This dish of Texas-Mexican cuisine is usually served by large companies. Grilled meat (in this case, two types – chicken breast and beef skirt steak) is cut into thin strips and put on the table along with fried vegetables and other toppings, for example, grated cheese, sour cream, guacamole – all on separate plates. Each guest collects fajitas for himself, laying out the fillings on the tortilla. Marinate the meat in lime juice with chili powder and other spices to get the great spicy flavor characteristic of Latin American cuisine.
Cook: 1 hour 15 minutes
Servings: 8
Ingredients
450 gr. skirt steak, cut into 10-15 cm pieces.
450 gr. skinless and boneless chicken breasts
2 tbsp vegetable oil + additional for frying
Grated zest and juice of 1 lime
1 garlic clove, grated
1 tbsp chili powder
2 teaspoon ground cumin
1 teaspoon ground coriander
1 teaspoon dark brown sugar
3 sweet peppers (assorted colors), cut lengthwise in half, and seeded
2 large onions, cut into 1 cm thick rings.
12 – 16 small wheat tortillas
A mixture of grated Mexican cheeses, sour cream, salsa, and guacamole, to serve
Directions
In a small bowl, combine vegetable oil, lime zest, and juice, garlic, chili powder, cumin, coriander, brown sugar, 1 teaspoon. salt and some freshly ground black pepper. Place the steak in a medium bowl. Place the chicken breasts between two pieces of cling film and beat on both sides with the flat side of a meat hammer or a heavy skillet until 1 cm thick. Transfer to a separate bowl. Divide marinade between steak and chicken and mix thoroughly. Refrigerate for 30 minutes.
Preheat grill to moderately high heat. Grease the grates with vegetable oil. Remove the steak and chicken from the marinade and season with salt. Roast, covered, 3-5 minutes on each side for steak and 6-7 minutes on each side for chicken. Transfer the steak and chicken to a cutting board and rest for 10 minutes.
Meanwhile, grease bell peppers and onions with vegetable oil, salt. Cover and grill, turning, until black marks appear on the grill, 6-8 minutes. Transfer to a cutting board. Wrap tortillas in foil and grill, turning once, 5 minutes. Chop bell peppers and onions. Cut the steak and chicken into strips. Serve meats and vegetables with tortillas and various toppings.
Also Like
Comments for "Fajitas with Beef Steak and Chicken"