Fajitas with Chicken and Zucchini
by Editorial Staff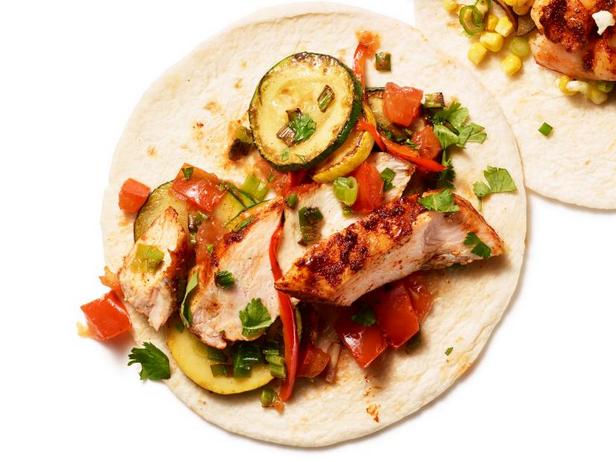 Ripe summer squash can even be used in Mexican fajitas. They fill the snack with a lot of fiber, and their neutral taste blends well with the other brighter ingredients of this colorful dish. Make grilled chicken fajitas with courgettes. And so that this vegetable blends harmoniously into a Mexican appetizer, fry it in a pan with tomatoes, jalapenos, and cilantro. You will get a very aromatic and juicy vegetable mixture, which is served on a tortilla with pieces of fried chicken and lime wedges.
Cook: 1 hour 10 minutes
Servings: 6
Ingredients
0.7 kg. boneless and skinless chicken breasts
6 garlic cloves, crushed
3/4 Art. torn fresh cilantro
1 teaspoon fresh thyme leaves
3 jalapeno pods (red or green); Chop 2 coarsely, 1 cut into thin rings
1/3 Art. + 1 tbsp extra virgin olive oil + additional for grilling
1/4 Art. honey
Juice of 2 limes + wedges to serve
2 zucchini and/or courgette, cut into thin circles
1 bunch green onions, chopped
1 tomato, chopped
8 – 12 wheat tortillas
Directions
Whisk the garlic, 0.5 tablespoon, in a food processor. cilantro, thyme, chopped jalapenos, 1/3 cup olive oil, honey, lime juice, and 1 teaspoon each. salt and black pepper until smooth. Place the chicken in a large ziplock plastic bag. Add the marinade, close the bag and stir to coat the chicken with the marinade. Refrigerate for 30 minutes and up to 2 hours.
Meanwhile, in a large skillet over medium heat, heat the remaining 1 tbsp olive oil. Add zucchini in several batches and grill, stirring occasionally, until tender and golden brown, about 3 minutes; salt. Transfer to a plate.
Add the green onions to the skillet and cook, stirring occasionally, for about 2 minutes. Remove from heat. Add the tomato, chopped jalapenos, and the remaining 1/4 cup. cilantro; return the zucchini to the skillet, season with salt to taste, and stir. Cover to keep the vegetables warm.
Preheat the grill to medium-high heat and brush the wire rack with olive oil. Remove the chicken from the marinade and cook until tender, 5-6 minutes on each side. Transfer to a cutting board; rest for 5 minutes.
Reheat the tortillas as directed on the package. Chop the chicken and salt. Serve on tortillas with the courgette mixture. Top the fajitas with lime wedges.
Also Like
Comments for "Fajitas with Chicken and Zucchini"