Fajitas with Сhicken
by Editorial Staff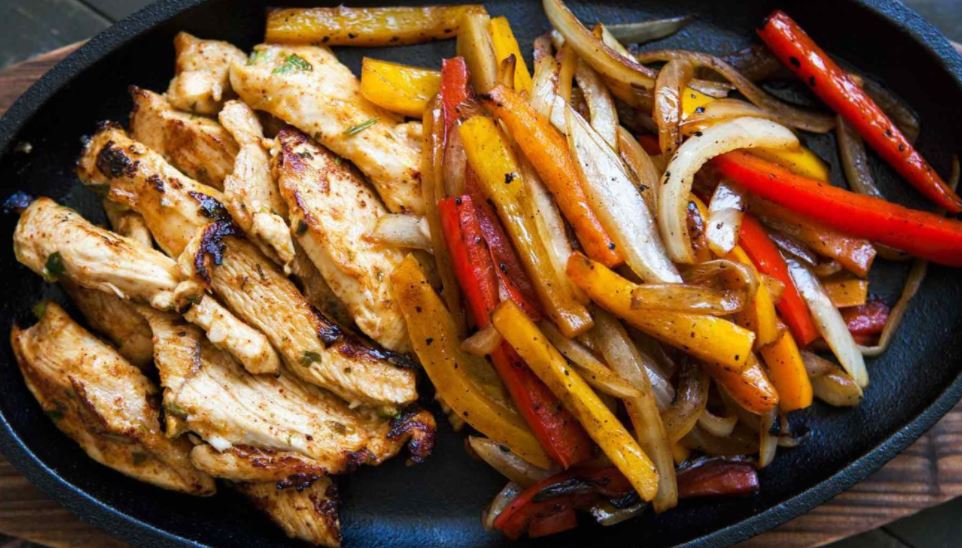 A bright traditional Mexican dish that combines juicy, aromatic, slightly spicy stripes of chicken breast with onions and bell peppers. With crunchy corn tortillas addition – tortillas and sauces for every taste! Fast, simple, and incredibly delicious!
Cook: 10 minutes
Servings: 4
Ingredients
For filling
chicken breasts: 550-650 gr. (no skin, no bones)
salt:
olive or peanut oil: 2 tablespoons
bow: 1 pc. sliced lengthwise into strips (root to tip)
bell pepper: 3 pcs. different colors (cut into strips)
For marinade
lime juice: 2 tablespoons
olive oil: 3 tablespoons
garlic: 1 clove (minced)
salt: 1/2 teaspoon
ground cumin: 1/2 teaspoon
chili (powder): 1/2 teaspoon
jalapenos: 1/2 chopped
cilantro: 1/4 cup chopped
For service
tortilla (flatbread): 8-12 pcs.
salsa:
guacamole:
sour cream :
Iceberg lettuce: thinly sliced
Directions
Slice chicken breasts in half horizontally so that each is 1 to 2 cm thick. (I do not recommend beating chicken breasts as this will result in fajitas texture incorrect)
Combine all marinade ingredients in a glass or plastic container. Add the chicken, stir well, cover, and marinate at room temperature for 30 minutes or up to 8 hours in the refrigerator.

Remove chicken from marinade and sprinkle with salt.
Heat a tablespoon of oil in a large cast-iron skillet over high heat for about a minute. Place the chicken pieces into the skillet. Depending on the size of the pan, you may need to work in batches. Cook the chicken for 2-3 minutes on one side. After the meat is well browned, turn the pieces over and cook for another 2-3 minutes, on the other side.
Transfer the chicken to a cutting board and cover with aluminum foil to keep warm for 5 minutes.
Add another tablespoon of oil to the skillet. Heat over high heat. Once the oil is hot, add the onion and pepper. Stir to coat with oil. Spread evenly. Cook for 2 minutes. Then stir and cook for another 2 minutes.

Slice the chicken across into thin strips. Serve immediately with peppers and onions, tortillas, salsa, guacamole, sour cream, and thinly sliced iceberg lettuce topped with vinegar and salt.
Also Like
Comments for "Fajitas with Сhicken"