Grilled Сhicken (in the Oven)
by Editorial Staff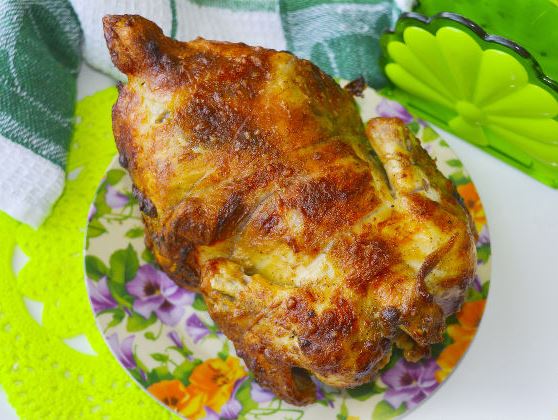 Grilled chicken … When these words sound, an appetite appears and you want to cook a ruddy chicken. The recipe for juicy and aromatic grilled chicken will definitely come in handy, which can amaze even the most fastidious gourmet with its amazing taste.
Ingredients
Chicken – 1 pc.
Mayonnaise – 3 tbsp
Mustard (seasoning) – 2 tbsp
Garlic – 4-5 cloves
Salt to taste
Ground black pepper – to taste
Directions
In a bowl, combine mayonnaise and mustard.
Squeeze garlic to it.

Add salt and mix everything.
Then add ground pepper and mix again.

Lubricate the chicken with marinade and leave it in the refrigerator for a day.
It is better to marinate the chicken longer, at least leave it in the refrigerator overnight so that the bird is well saturated with spices and is simply unique in taste.
After a day, put the pickled chicken tightly on a spit.
It is better to grill chicken in the oven on a skewer so that the chicken is evenly baked. If it is not possible to bake on a spit, then you can use a regular grill.
Preheat the oven with the "grill" function to 200 degrees. We send the spit with chicken to the oven, place a baking sheet under the chicken on the spit.

We bake the chicken in the oven for at least 1 hour.
We serve the grilled chicken with any sauce and/or fresh vegetables. You can use boiled potatoes as a side dish.
Bon Appetit!
Also Like
Comments for "Grilled Сhicken (in the Oven)"