Milanese (Argentinean Schnitzel) Сhicken
by Editorial Staff
Argentine Milanese is the most typical schnitzel made with chicken or beef tenderloin. The dish is very similar to a traditional chop, but the difference is that the meat is not beaten, but fried in batter and breaded. Chicken schnitzel batter is prepared with aromatic herbs and garlic.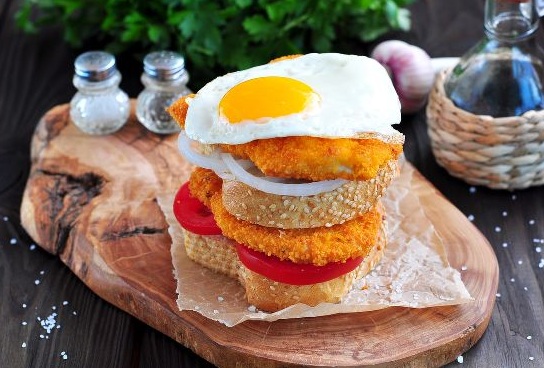 Cook: 15 min.
Ingredients
Chicken fillet – 300 g
Chicken egg – 1 pc.
Garlic – 1 clove
Wheat flour – 3-4 tbsp
Breadcrumbs – 3-4 tbsp
A mixture of Provencal herbs – a pinch
Sea salt – to taste
Ground black pepper – to taste
Vegetable oil for frying – 2-3 tablespoon.
Directions
Chicken fillet must be rinsed under running water and dried.
Beat the egg in a convenient bowl.
Add a mixture of aromatic herbs and garlic.

Cut the chicken fillet into portions. Fillet for Milanese schnitzel is not beaten. Season the chicken with salt and pepper.

Chunks of the chicken fillet should be thoroughly rolled in flour.

Then they need to be dipped in fragrant batter.

And roll in breadcrumbs.

Fry chicken schnitzels until crisp in vegetable oil in a deep frying pan.

Put the finished chicken fillet schnitzels on a paper towel to remove the excess oil.
Serve Argentinean Milanese (chicken schnitzels) with mashed potatoes or other garnish. Or you can serve the Argentine Milanese schnitzel in the form of a popular sandwich – with onions, tomatoes, and a fried egg. Before serving, the yolk should be pierced – it will act as a sauce. Bon appetit!
Also Like
Comments for "Milanese (Argentinean Schnitzel) Сhicken"