Sizzling Fajitas
by Editorial Staff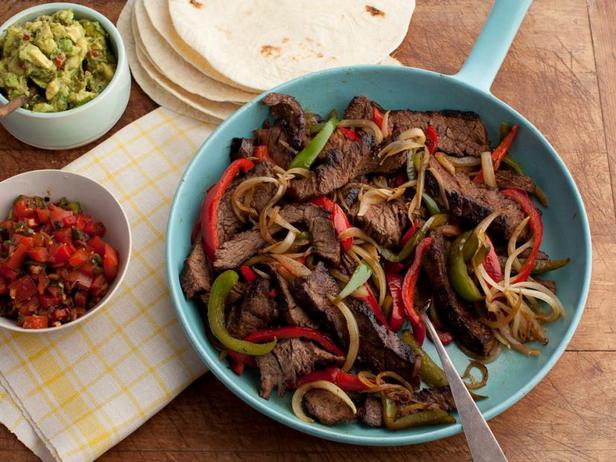 The zest of a good Mexican fajita (sliced ​​into strips of grilled meat with vegetables) is in its curling when served. Indeed, from this sound alone, the appetite is played out, not to mention the amazing aroma and beautiful presentation. Fajita is usually served in special portioned cast iron pans. To keep it sizzling, heat the pans in the oven while you cook meat and vegetables. Instead of meat, you can take chicken or shrimp, and a marinade with lemon juice and spices will add a wonderful taste to any protein you choose. Finished fajita is laid out on hot pans and immediately served with tortillas and other traditional additives for this dish, which you will also find in the recipe.
Cook: 1 hour 35 minutes
Servings: 8
Ingredients
0.7 kg. meat (boneless, skinless chicken breast, skirt steak, or peeled shrimp)
1/4 Art. vegetable oil, divide
3 tbsp lemon juice
1 garlic clove, minced
1 teaspoon ground cumin
1 teaspoon garlic powder
1 teaspoon onion powder
Some hot sauce
1 medium onion, cut into thin half-rings
1 green bell pepper, cut into thin strips
1 red bell pepper, cut into thin strips
8 wheat tortillas (20 cm)
Juice of 1 lime, for serving
Sour cream, for serving
Salsa, for serving
Guacamole, for serving
Grated cheddar, for serving
Directions
In a strong zip-lock plastic bag, mix 2 tbsp vegetable oil, lemon juice, garlic, cumin, garlic powder, onion powder, hot sauce, salt, pepper, and any meat of your choice. Seal the bag and stir everything inside. Put in the refrigerator to marinate. Marinating time: 15 minutes for shrimp, 20 minutes for chicken, and 1 hour for skirt steak.
Preheat cast iron fajita pans in an oven preheated to 200 ° C for at least 20 minutes so that the fajita sizzles well.
Preheat an outdoor grill or a large grill pan over medium heat. Remove the meat from the marinade and place it on the hot grill, drain the marinade. Cook the chicken until tender, about 5 minutes on each side, the skirt steak about 3 minutes on each side for medium heat, and the shrimp about 2 minutes. Cut the chicken and steak into strips if you do with them.
In a large skillet, heat the remaining 2 tablespoons. l. oil and sauté the onions and bell peppers, adding a little salt and black pepper, until the vegetables are crispy and soft.
Wrap the tortillas in foil and heat them in the oven with pans for 15 minutes. When ready to serve, remove the cast iron pans from the oven and quickly spread the meat, peppers, and onions on top of them. Fajitas will immediately hiss. Serve to sizzle with warm tortillas and other appetizers.
Also Like
Comments for "Sizzling Fajitas"