"Fajitas" in Mexican Style
by Editorial Staff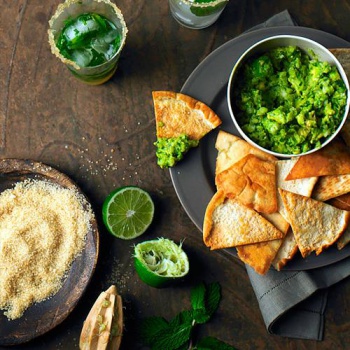 Hello! Do you love fajitas as we love them? Then Vamos an Empezar – let's get started!
Ingredients
4 machete steaks (skirt-steak, butcher's steak) 250 g each,
4 hot chili peppers
6 cloves of garlic
a couple of sprigs of rosemary and thyme,
olive oil,
salt,
black pepper,
sour cream,
2 ripe avocados
2 tomatoes,
1 head of onion,
2 bell peppers,
1 lime
tabasco sauce,
fresh herbs,
grated cheese,
tortilla flatbread.
Directions
Marinate the meat. Put machete steaks, 2 finely chopped chili peppers, 5 cloves of garlic, rosemary, and thyme on the bottom of the deep mold. Add olive oil, 150-200 g. Gently but surely mix the meat with the marinade. Be careful – the aromas of the condiments can turn your head. We leave for 30 minutes.
Guacamole sauce. We take out the pit from the avocado and grind it until smooth with a fork or blender. Grind and add half of the finely chopped onion, a clove of garlic, tomatoes, and a few drops of Tabasco sauce, and a couple of tablespoons of olive oil, salt, and juice of one lime. Done. We transfer it to a small bowl and put sour cream into the second bowl. Both of these sauces go well with each other – one adds spice, and the second cool the ardor with softness.
Fry steaks in a grill pan for 6-7 minutes until medium or medium-well. Add salt and pepper. Rest for 5 minutes. At this time, in another frying pan, fry the remaining onions and bell peppers, cut them into strips. Rub 3-4 large handfuls of cheese.
Put the tortilla on the table, put the fried onion with bell pepper, cut into strips of machete steak, some chili pepper, fresh herbs, sprinkle with cheese on one half. We close the cake and send it to the oven under the grill or to a dry frying pan. As soon as we hear the sound of bursting bubbles of aromatic cheese, transfer to a plate. Cut into 4 pieces with a knife, sprinkle with olive oil, put 1 teaspoon of guacamole sauce and sour cream on top, and …
Bon Appetit!
Also Like
Comments for ""Fajitas" in Mexican Style"